QUIZ: Which Of These Celebrity-Helmed Beauty Brands Are You?
More importantly, what does it all mean?
@badgalriri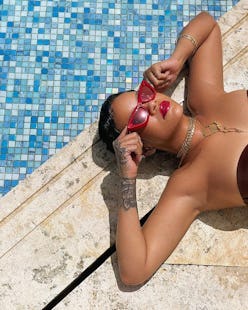 If you feel overwhelmed by the sheer amount of celebrity-founded beauty brands, ground yourself by thinking back to the early '00s when every possible star had their own signature fragrance — often several of them available at once. Yes, stars starting their own hair, makeup, and skin care companies are just the latest iteration of the proverbial Wheaties box, like an extreme, far more lucrative form of endorsement. Not all A-list-helmed empires are created equal — they're distinct, unique, and custom-created for the celebrities who lead them, and discerning fans can always sniff out the less-than-authentic attempts at brand-building. That said, the leading celebrity lines are wildly successful because they feel like a natural, expected extension of their personal brands, in everything from the products pushed to specific marketing techniques and events.
So are you a free-wheeling creative moved by the muses like Rihanna and her global Fenty Beauty empire? Or a mission-focused mogul like Selena Gomez, who uses her Rare Beauty makeup line to inspire confidence and kindness in young girls? Perhaps you're parlaying your passion for self-expression and identity into a business venture, like Tracee Ellis Ross' PATTERN line, or wisely willing to capitalize on virality and an impassioned fan base like Rhode founder Hailey Bieber? All will be revealed with this only slightly less-than-scientific quiz.
Pick A Viral Summer Aesthetic