The Spice Girls/Backstreet Boys Just Hinted At A Joint Tour And Our 90s Selves Are Freaking Out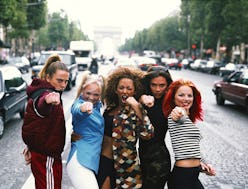 Get ready to slather on some glitter body lotion and tipsily Snapchat videos of you and your friends lip syncing along to some '90s pop! Our ex-boyfriend Nick Carter just casually dropped some news to Us Weekly that could be huge: The Backstreet Boys and the Spice Girls could go on a joint tour together.
That noise you hear is our teenage selves shrieking with joy because we can't even handle this news.
The thought of two of our favorite throwback bands together, on the same stage, is honestly sending chills down our spines. And also making us wonder if we're near the end of days because clearly such a thing couldn't happen without huge repercussions in the time-space continuum.
"We've had conversations, I've had conversations with Scary Spice and Emma, and we've talked about it," he revealed. "We're always open to doing a tour with them. I think it would be an epic tour." SAME, NICK, SAME. (Those all caps were accidental but feel appropriate so we're leaving them in.)