3 Things You Should Never Do After A Breakup, As Exemplified By Selena And Justin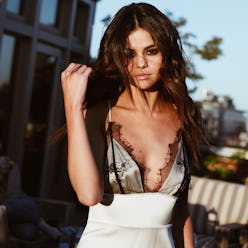 Selena Gomez, recent biking enthusiast, and Justin Bieber, person who once lost custody of a monkey, are pretty much the Elizabeth Taylor and Richard Burton of our time, only with more Instagram feuds. Their relationship is on again, off again, ad nauseam. And speculation that the couple could be getting back together again has come after the news that she and her beau of ten months, The Weeknd, have split.
Today, we were able to add another clue to our evidence board: Selena and Justin were seen canoodling while on a bike ride. And an insider told People, "Justin is happy Selena is single. He hopes to regain her trust so they can get back together." Girl. You know his intentions. He wants you back, N*SYNC style.
We couldn't help but wonder (to quote Carrie Bradshaw, one-half of another—albeit fictional—on-again, off-again relationship): Is there a healthy way to handle a breakup? We've had our very own Justin Biebers, after all. And battling a broken heart is never easy. A few of our favorite tips:
1. Don't try to date your way out of despair. (Though it can be tempting.)
2. Don't wield Instagram like a weapon. In fact, it's beneficial to go dark on social media, at least until you can resist the urge to post nothing but inspirational quotes.
3. Don't obsess about what your ex is doing. When your mind starts to wander in that direction, turn that focus to yourself and what you can control.
Here are more healthy ways to handle a breakup, along with the most important things to remember when your heart is broken.