Jessica Alba Just Posted The Most Heartbreaking Tribute To Her Dog
Getty Images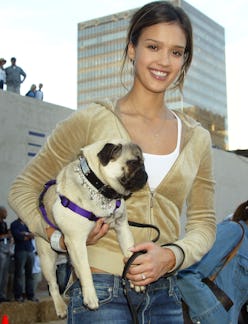 Our dogs sleep in our beds, provide necessary snuggles after a stressful day and are fierce and loyal companions—so it's no wonder losing a pet feels like losing a part of your family. That's why Jessica Alba's tribute to Sid, her pug who sadly passed away this morning, hit close to home.
She captioned the post: "Our sweet Sid passed this morning. She lived a long life, eating everything she could sniff out. She was my OG Rolldog, and made her feature film debut in Honey. She was @Cash_warren first dog. She endured millions of snuggles from Havie pie and @shanidarden. She was the best friend a girl could ask for. We went through so much together my Sid. RIP."
Our hearts go out to her and her family.