Trust Cardi B To Make An '80s-Style Mullet Look Legitimately Futuristic
The catsuit helps, of course.
MEGA/GC Images/Getty Images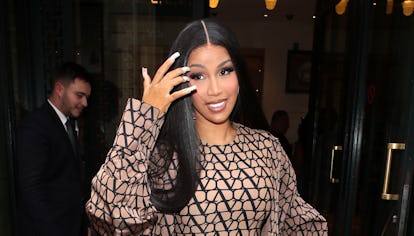 Being a member of Cardi B's go-to glam team sounds like one of the most creatively fulfilling roles a person could have. Not only does the rapper and style icon have a true appreciation for the actual craftsmanship that goes into the intricate nail art, hairpieces, and sultry makeup looks she loves, but Cardi's willingness to experiment and shake things up makes it seem like fun is part of the job description. Just check out her latest: Cardi B's curly, '80s-style mullet is a more avant-garde hairstyle than what most of her A-list peers would go for, but that's why she's so aesthetically revered. Who else is doing like her?
In her usual manner, Cardi B dropped the bold new look totally unceremoniously, much to the delight of her near-200 million followers. She's dabbled in aesthetics from the '90s and '00s (and the future, come to think of it), but this is one of her most overt references to a bygone era. In the photos shared to Instagram, she's encased in a stretchy Chrome Hearts catsuit, her shorter, tight curls arranged around her face to simulate the layered, tapered look of a mullet — or, more fittingly, its modern cousin, the wolf cut.
If you feel like Cardi's about to hop on that piano behind her start singing "When Doves Cry," you're not alone. The tousled volume and curly tendrils covering one eye do immediately call Prince's signature curls to mind, though Cardi's forgone purple in favor of all things silvery chrome — manicure included.
To match her catsuit and the silver jewelry hanging from her ears and Birkin, celebrity nail artist Jenny Bui (also known as Nails On 7th) gave the star a custom-created Chrome Hearts manicure complete with painstakingly detailed crucifixes and fleur-de-lisses. Even for a celebrity, it's pretty damn decadent.
All this glamour arrives with perfect timing, too. Just a few hours after sharing the photos, she announced a brand-new single with Offset coming this Friday, July 29. To say that fans are excited is an understatement, considering it's her first lead-artist track since last summer. As rumors of her forthcoming sophomore album swirl, expect to see Cardi pulling out all the aesthetic stops. It's going to be a fun few months.