Candy's Outfits In 'Love & Death' Have So Many Hidden Meanings
Costume designer Audrey Fisher breaks down the character's style.
Jake Giles Netter/HBO Max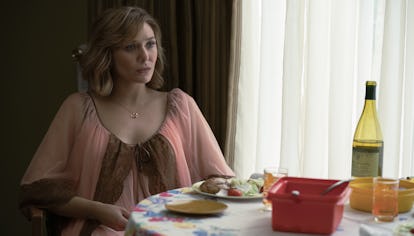 Humans are complicated and multifaceted. These qualities are exemplified by Candy Montgomery, played by Elizabeth Olsen, in HBO Max's Love & Death when viewers are first introduced to her. Based on a true story, Olsen portrays a housewife living in Collin County, Texas in 1980, who has an affair with her neighbor's husband Allan Gore, played by Jesse Plemons. What starts out as a secret tryst eventually leads to — spoiler alert — his wife's violent death at the hands of his mistress. Given the controversial nature of Olsen's role (the real Candy Montgomery is still alive today), costume designer Audrey Fisher was tasked with visually illustrating the many, often opposing, sides of the character through clothes.
To Candy's neighbors in the small town, her facade was that of a doting mom, wife, and churchgoer. But her best friend Sherry Cleckler, played by Krysten Ritter, often saw Candy's more illicit, daring side — her closest confidante is, after all, the first to know about the affair. "Candy is always trying to embody that perfect wife and perfect mother" Fisher tells TZR. "[At the same time,] she represents a woman who's trying to step out of her role [as a housewife in a small town], and the only way she can do that is to take control of her sexual life."
As you follow Candy's inner turmoil on-screen, you'll see how her wardrobe choices often reflect her emotions, giving you a better perspective of her true, complex nature. Ahead, Fisher breaks down Candy's style in the show and how each look ties back to her story.
The Sporty Mom
Jake Giles Netter/HBO Max
To separate Candy from the rest of the buttoned-up, conservative mom pack, Fisher gave the character a cooler, sportier side. "For her traditional mom looks, I wanted the outfits to be a bit sporty because sports [like football and tennis] were becoming big, so she wears more T-shirts, jeans, and Keds" Fisher says. "There were a couple references in the source material that in the summer, the real Candy was always casual, like wearing jeans and flip-flops, so I think in reality, she did embrace a sort of sporty, cute mom style."
The Popular Woman In Town
Jake Giles Netter/HBO Max
The costume designer says Candy was "described in [the script] as the belle of the ball, a bubbly cocktail of warmth, and has this sort of sensuality." All the men in the town like her, the women want to hang out with her. "She's the queen bee and has her eye on, I think, Hollywood and flips through magazines [to learn about the latest trends]," adds Fisher, who says the character desires a life beyond her role as a housewife in a small town.
Fisher showcases this hip side to Candy by putting Olsen in city-slick clothing like a denim midi skirt coupled with a cute trench and plaid shirt, or jeans with a blazer that showcases white stitch work. Candy's jewelry, such as an Elsa Peretti heart necklace from Tiffany & Co., signal that she's in touch with the era's biggest trends. "I thought of the [necklace] as maybe like a high-end anniversary gift from her husband," Fisher shares, on creating the fictional backstory for this piece. "She wears it all the time because it's her little icon, her little heart."
Meanwhile, the character's hoops — a go-to for women in the '70s, explains Fisher — are from Anne Klein and Ralph Lauren. "I think she just always wants to be feminine and pretty [when wearing the hoops]," Fisher says. "Candy has maybe three different styles, small, medium, and then a larger one she wears when she was feeling more feisty."
The Churchgoer
Jake Giles Netter/HBO Max
Although Candy is part of the Methodist community, Fisher doesn't think she's a highly religious person, especially when compared to her neighbor Betty Gore (played by Lily Rabe). "For Candy, the church life is a way to be in the middle of a social environment and create a sort of framework for a family life," Fisher shares. "Betty is super religious and was brought up in the church, whereas Candy is probably more secular and kind of there to fulfill her own needs."
This fair-weather mindset is reflected in Candy's church day best. "On Sundays, she was always in a cute little dress, which always had a little more flair than [the other moms' looks] in the show," she says. "I wanted her to stand out as having a bit more style." Her nonconformist outfits can be seen in her two-piece set with red piping detail or a cute top with jeans — both departures from the other women, who mainly wear knee-length dresses.
The Flirt
Jake Giles Netter/HBO Max
While public-facing Candy has her sweet church styles and casual mom jeans, her alter ego loves a good piece of lingerie for extramarital escapades. "The lingerie story starts with her wanting to be glamorous — like an aspirational, Hollywood glam — so she's in a peachy-pink dress with brown lace. Then as she gets more comfortable in the affair, her lingerie becomes more body conscious and revealing," Fisher shares, reflecting on this mini style arch for Candy. And here's a fun, behind-the-scenes tidbit: All the underthings you see on-screen were vintage pieces sourced from costume houses around Los Angeles or found on Etsy.
The Free-Spirit
Jake Giles Netter/HBO Max
A poignant scene in the series is when Candy goes dancing at the disco in a shimmery, off-the-shoulder mini dress after Allan says they should stop with the affair. "To me, this scene represents Candy trying to blot out any memory of Allan. She wants to move forward with her life, remind herself of her own sexiness and her own appeal," Fisher ruminates, explaining why this dress was a standout moment in the show.
The costume designer shares that her team made this look from scratch in order to get the sequin fabric and color to look good on camera. "We decided on a beautiful midnight blue shade, and then I worked with Elizabeth to make sure she felt right in it. She really wanted to show off the shoulders and for the dress to be sexy. This look turned out beautifully."
The Demure Housewife
Jake Giles Netter/HBO Max
A very obvious change in Candy's style comes towards the end of the series, when she goes on trial for Betty's murder. Her clothes become less casual and more modest to create the appearance of a harmless housewife. "[When you think about it], Candy was really in costume because her lawyer says she can't wear her T-shirt and jeans on the stand," says Fisher. "He needs her to be in more sedated clothes and not look as pretty or interesting. His stance was that if she were to go to trial dressed as the normal Candy, she would be convicted." The costume designer specifically calls out pieces like blouses, sweater vests, and the circle frames, which the real Candy Montgomery wore during her trial, helped create this alternate persona for Olsen's character.