Angelina Jolie's Nearly Unrecognizable With Gray-Streaked Hair For A New Role
This movie is gonna be good.
TIZIANA FABI/AFP/Getty Images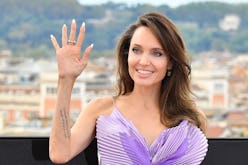 Critics can never say that Angelina Jolie doesn't fully commit to her acting roles — her total immersion is one of the reasons she's so acclaimed. Even early looks at her different projects show just how completely she can morph into a character or the person she's portraying, but her latest transformation might be among her most shocking. While filming her upcoming Maria Callas biopic, which follows the life of the controversial opera singer, she's nearly unrecognizable. Jolie's gray hair, part of big, '60s and '70s-style wigs, coupled with Callas' signature oversized eyeglasses, surprised even her biggest fans when photos from on-set popped up online. These advanced previews are generating serious promotion for the movie, too — who wouldn't want to see Jolie embody such a legend so entirely?
The first photos starting surfacing the second week of October, taken in Paris where production is taking place. Early reports suggest the film primarily focuses on Callas' later years, covering the tail end of her 40s and early 50s — the opera legend died at just 53. But while Jolie is 48, it looks like some serious wig work and aging makeup was used to make her look more like the icon she's portraying.
CREDIT Best Image / BACKGRID
CREDIT Best Image / BACKGRID
Jolie is, of course, stunning in anything she wears, which extends to period-piece costumes, makeup, and wigs. However, the transformation feels all the starker compared to the photos of her taken off-duty in Paris. Outside of filming, she's been hitting the boutiques and even a recording studio looking chic as ever. Her blonde hair, just dyed back in late April, falls a few inches past her shoulders with a sleek center-part.
This Maria Callas biopic is hardly the first time Jolie's physically transformed for a role. She had uneven, choppy bangs in Girl, Interrupted, an edgy pixie in Hackers, and a whole host of extreme hairstyles in Gia, to say nothing of the facial prosthetics required for Maleficent. Fiercely loyal to Strasbergian "Method" acting, she's known to essentially live as her characters throughout production — which possibly explains those recording studio visits.
Based on these on-set photos alone, it's safe to say her upcoming movie will be an especially buzzy one.