The Sunglasses Trends Everyone's Talking About Wearing This Season
Such an easy to way switch up your look.
@iiirdeyeview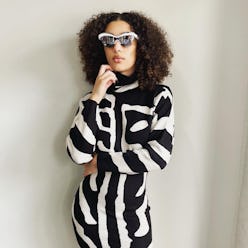 We may receive a portion of sales if you purchase a product through a link in this article.
The fashion industry has seen quite the rapid cycle of micro-trends throughout the past year, from the very persistent rise of Y2K style to the birth of balletcore. Meanwhile, trying to shop every fly-by-night look to land on your TikTok feed can feel impossible at worst, and expensive at best. But the best sunglasses trends of 2023 are here to provide a helpful workaround. Ranging from playful and eccentric to streamlined and motocross-inspired, the options out there right now span enough aesthetic ground to shift the vibe of any wardrobe.
An excellent place to begin is with sporty designs. "We're definitely feeling this kind of active-meets-future shape being really prominent," Anush Mirbegian, the director of accessories at FashionSnoops, tells TZR. She calls out wraparound shapes and mono-lenses — in other words, silhouettes that are synonymous with more form than function — as key accessories in the upcoming months. Christyn Breckenridge, the owner of eyewear brand 3rdEyeView, agrees. "The clash that's happening right now with athletics and high fashion is dope," she says. "Razor edge shapes are really popular [right now] — they would normally stay within those sport realms but you can spot them on a celebrity courtside nowadays."
The renewed interest in exaggerated, neoteric styles comes after a period of gravitation towards thin and understated frames. "The pendulum is definitely swinging back after the surplus of trending micro-lens frames in past seasons, with statement, oversized shapes now coming back as the new must-have silhouette," reflects Amelia Ansink, Fashion Snoops' senior strategist of accessories.
Whether you're looking to make a splashy statement with your eyewear or prefer an updated classic, 2023 has a sunglasses trend for you. Ahead, TZR gathered five styles worth trying on right now.
Sleek & Sporty
This year is definitely all about athletic-inspired clothing and accessories (hey there, moto mamis). "Think detached rims and crooked arms playing into this kind of cycling, active shape that meets a future VR goggle," Mirbegian says. These frames are edgy and cool — and surprisingly easy to customize just by playing around with unexpected styling combinations. "I love pairing textures with [sporty] glasses," Breckenridge advises. "Throw on leather gloves or a leather embellished hat and voilà!"
Visor & Shield Lenses
Spotted everywhere from the runway to the streets (and on Kim Kardashian), a bold pair of visor sunglasses is a surefire way to make a statement. "The mono-lens and shield sunglasses were the most popular silhouette we tracked through the Spring/Summer 2023 runway season," Ansink recounts of the style, which popped up on on the runways of Marine Serre and Max Mara, to name a few. Consider trying a mirrored lens, which is strikingly reminiscent of ski goggles with a subtle nod to the early aughts style (just Google J.Lo in her Jenny From The Block era).
Rounded Cat-Eye
This timeless shape works with virtually any cute outfit — and it's everywhere right now, so you have lots of options to choice from. "We've spotted this [style] a lot with Swedish brand Chimi as well as the French [label] Emmanuelle Khanh," Mirbegian notes. A favorite all the way back to the 1930s, cat-eye glasses have gone through several iterations before settling into their current, softer form. "[Accessories] pull from the style of specific decades or subcultures when it comes to silhouette shapes, colors, and detailing," Ansink explains. Pair your pick with a classic red lip and LBD, or opt for a more colorful frame atop a blazer and micro miniskirt.
Rectangular
"Rectangular shapes are maintaining their standing and have sort of a Y2K reference point," says Mirbegian. It's a simple silhouette, which allows room to play with color and tinted lenses, a detail that has garnered popularity in recent years. "Vintage yellow or brown hues from the '70s American Hustle era are returning," notes Breckenridge, inviting you to add warm colors to your own eyewear collection.
Fun Frames
Individuality and gender fluidity are at the foundation of many current fashion trends. So what better way to explore this personalization than playing with a variety of textures, shapes, and colors? "Puffy, bubbled styles, influenced by JW Anderson's work at Loewe inject a little humor into eyewear," Mirbegian tells TZR. Whether you're all about rhinestones or experimenting with more geometric motifs, you can take the look further by way of embellishments like straps and charms — two details that FashionSnoops has flagged as the future of eyewear.
This article was originally published on