Aja Naomi King Just Made The Best Point About Motherhood & Self-Care: 'It's Non-Negotiable'
TZR goes deep with the actor-activist.
Emma McIntyre/WireImage/Getty Images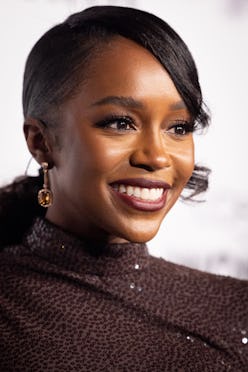 We may receive a portion of sales if you purchase a product through a link in this article.
To say that Aja Naomi King has a lot on her plate might be the understatement of the year, but you'd never know it from speaking with her. King is all your-favorite-camp-counselor positivity, warmth, and energy — to the point where you get so comfortable, the whole "superstar of stage and screen" thing almost becomes an afterthought. So what happens when a celebrity just so happens to exude equal parts glamour and grounded realness? You make her the brand ambassador of a downright legendary beauty brand, of course. But this high-profile L'Oréal Paris partnership is about more than just King's skin care routine and favorite complexion products. In step with L'Oréal Paris' famous tagline, "because you're worth it," King helped select this year's Women Of Worth honorees. The group of 10 standout non-profit leaders each dedicate their organizations to a distinct cause near and dear to their hearts and communities. For the Lessons In Chemistry star, all that hard work is more like a pleasure.
TZR spoke with the always-affable King for an inside look at the Women Of Worth selection process, why giving back is so important, and her current skin care favorites — plus how her whole world's changed since becoming a mother in 2021.
Her Work With Women Of Worth
King describes her entire L'Oréal Paris partnership as every bit the family affair, with the Women Of Worth initiative taking a true 360-degree approach to philanthropy that extends beyond just a check and a bit of exposure. Along with a $25,000 donation to their assorted organizations, the 10 honorees also get access to the brand's impressive contacts and mentorship network, as well as ads with Warner Bros. Discovery to further spread awareness. "I wanted to be able to give so much, to take part in honoring them and deeply invest in them the way that they've invested in others so tirelessly for so many years," King explains. "It's just been such an incredible opportunity for me for my own personal growth to see what is possible if you just try to make a difference in other people's lives."
Though King has worked with L'Oréal Paris for years now, she tells TZR that the 2023 crop of change-makers are a particularly exciting group with a wide range of causes that feel especially immediate. She lists climate change, sustainability, mental health awareness, and youth empowerment as just a few of the initiatives in the spotlight, but says overall, there's a major goal to spread a message of possibilities — "[don't] be limited to societally-imposed ideas of what your life can be. I can't even say that there's one program that is more meaningful to me than others, because they're just all so impactful in such different ways."
The Skin-Saving Essentials She Loves
Naturally, as the face of a skin care and makeup brand, King's own complexion is as radiant as it gets — outer beauty meets inner beauty, if you will. She credits much of the glow to the L'Oréal Paris Revitalift Vitamin C Serum, a robust little multitasker that King declares herself fully in love with at the moment. "My skin is just soaking it up — and you see the effect of it so immediately," she says. "And then [I have] my forever favorites. The Revitalift Hyaluronic Acid Serum has been like a savior for me." King describes the cocoon-like properties of the serum as a protective barrier for the skin, which she points out is especially crucial with climate change-spurred weather events. "That is invaluable in these times when you're thinking about the weather and how hot it is, and what's in our air, and the fires, and everything changing — our skin needs to be protected and taken care of."
How Motherhood Changed Everything
King does have a personal stake in the world's future, too. She and her husband welcomed their son, Kian, in June 2021, a monumental moment that changed her life in a blink. " When I first had my son, everything was [about] him, him, him," she shares, "like 'be a good mother, make everything about him.' I was not taking care of myself." But as she found her rhythm within the experience, King realized that putting herself on the back burner was a quick route to burnout. "I needed the community around me to be like, 'No, show your child what love is by loving yourself, by taking care of yourself because then they will understand how to love others," she says. "Love shouldn't be self-sacrifice."
These days, King's got a much firmer grip on the work-life-family-self juggling act, using moments like her daily skin care routines to take some time for herself, get grounded, and focus on the immediate. "My skin care routine is a non-negotiable — it is a necessary must because I have to take care of myself in order to be the mom that I want to be, to parent the way I want to parent, to be the friend, wife, sister I want to be."
Even amid the schedule of her chaos, King finds a way to slow it all down. Shop the essentials from her very necessary skin care routine just below.