You're Not Imagining It: Your Brows Are Changing As You Age
Here's how to tackle every concern.
@agingwith_style_and_grays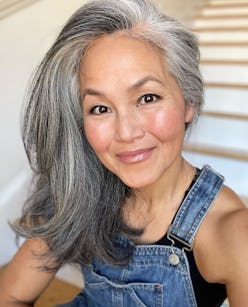 Brow trends come and go with every decade. Take the over-plucked shapes of the '90s or the glossy, laminated arches currently viral on TikTok as two examples. But brows that define and complement eyes, face, and even bone structure are timeless (because if the recent bleached moment has taught us anything, it's that "disappearing brows" aren't exactly practical). In terms of your overall beauty regime, routine maintenance is important because like everything else, brows age.
"Over time, the hair grows in more sparsely and the texture becomes less thick and less-pigmented," says Kristie Streicher, nurtured brow expert, founder of KS&CO and co-owner of STRIIIKE salon in Los Angeles. "You may even see random long hairs that curl and become wiry and gray." Dr. Loretta Ciraldo, Miami-based board-certified dermatologist and founder of Dr. Loretta Skincare, adds that you might start to see these changes as early as your late thirties as lower estrogen levels that accompany aging can cause hair to become smaller in diameter.
But luckily, there are plenty of options — from semi-permanent treatments to daily gels — that address all areas of concern. "Full, well-groomed brows can elevate our facial appearance the way that a good quality frame does for a photo," says Ciraldo. "A full and visible brow is considered a sign of youth and beauty."
Ahead, TZR spoke to industry experts on how to go about maintaining healthy, natural brows for the decades to come.
Concern #1: Fading Brows
Since brows gradually fade over time (due to the natural aging process but also sun exposure), semi-permanent makeup such as microblading is a great way to attack this issue while ensuring a long-lasting result (which can be up to one year). Since this treatment is essentially temporary tattooing of the brows, it should be handled with precision and care. Delphine Breyne, founder of Delphine Eyebrow Couture in New York City, says she always takes the measurements of the face, eyes, and brows before customizing the color base to the natural hair color. Then, using a tiny needle, she scratches the skin and drops some pigment where needed (numbing cream is applied for comfort). The result is a fuller, natural looking brow in a shade that complements the individual. She warns that achieving a desired result may require multiple treatments as the ink can react differently depending on skin type. From a dermatologist's perspective, Ciraldo likes this treatment and says that in expert hands, it's a natural way to achieve a thicker more youthful brow. But for those who want less commitment, Streicher suggests tinting the brow with gels as they are an easy way to gently add color to the hair. At home, try the gel from her KS&Co line for full, bold arches.
Concern #2: Thinning Brows
Thinning brows are not only disheartening but can point to a health issue; the loss of the outer third of the brow (known as "lateral eyebrow loss") is considered to be a unique characteristic of hypothyroidism. Ciraldo says that for this reason, it's important to have your brows assessed by a dermatologist, while Striecher educates her younger clients on this issue, cautioning them against removing too much hair from the "tails."
For those experiencing general age-related thinning, Breyne suggests avoiding waxing, plucking, or even sleeping too often on your side after micro-blading the thinned-out areas. "When I do a treatment, I always ask my clients to sleep on their backs — specifically not their sides — for at least two weeks to ensure they don't remove the 'tail' of their new brows, as this is where people generally thin," she notes. "I typically advise clients to use a plane pillow — one that goes around your neck — because it works very well to protect the new brows with its support to prevent side-sleeping." For those with thinning brows, it's important to have a skilled technician pluck them so you don't risk overdoing it yourself.
Concern #3: Over-Tweezed Brows That Won't Grow Back
Over-tweezing is a common mistake that many have made in their youth (or even adulthood!) For this concern, Streicher recommends using a daily growth serum to promote new hair and more growth, adding that it can take up to 12 months for all the hair to fully grow back. "If you allow the hair to go completely untouched for six to eight weeks — only tweezing the lower hairs that grow away from the brow line, and then tweeze them all at once — after a few cycles you'll start to see hair grow into the places you want, and stop growing in the areas where you don't," she says.
Breyne says that she has clients who followed the skinny brow trend of the '90s and want her to bring back the brows that they removed 25 years ago. "My response is always the same; 'let's start little by little so we can ensure you are comfortable with the process, my technique, and how your own facial structure has changed with time,'" she says. "This last part is important — even the way people see themselves changes over time." She reminds us that going slowly is crucial as "it's easy to add, but hard to remove".
Concern #4: Recovering From A Bad Brow Service
"Many people reach out to me with previous [permanent] tattoo work or microblading that left more to be desired, and most of the time – more than 80% – I am unable to work with them as clients at that moment because my technique is so light and natural that it will disappear in a few weeks," says Breyne. "Instead, I refer them to a great dermatologist who will perform laser removal first."
Fortunately, it's possible to recover from treatments-gone-wrong. With proper removal, growth serums, products, and upkeep, brows can be restored. However, the best course of action is prevention through picking a technician that's certified — and whose work matches the aesthetic of your desired result.
Ciraldo says that while microblading is generally safe, like any dermatological procedure, it's important to vet the person doing the microblading before you go for this treatment as it's minimally invasive and semi-permanent (and oftentimes, pricey). And Breyne emphasizes finding an artist whose technique matches the style you are looking to achieve, as you're buying into someone's aesthetic. "With this type of treatment, it's not something that you can easily return, like a handbag you don't like anymore — this is your face, and you deserve the best."
Whatever brow routine you choose, just know that like the hair on your head, your arches will change as you get older, too. The silver lining? There are plenty of at-home and professional options to enhance your brows along the way.