The $11 Setting Spray Toni Bravo Swears By For Radiant Skin
It's worth the TikTok hype.
Courtesy of Toni Bravo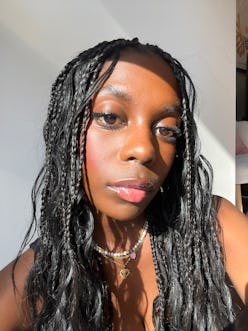 We may receive a portion of sales if you purchase a product through a link in this article.
When someone's selfie makes you scroll back, you want to know the beauty products responsible for the double take. Inquiring minds get answers with TZR's The High/Low series, where we ask our favorite tastemakers to reveal both the splurge-worthy and wildly affordable staples in their routines.
If Toni Bravo (@bonitravo) has popped up on your TikTok FYP, you've probably immediately followed her after viewing whichever one of her approachable beauty tutorials or honest product reviews the algorithm served you. "I like to keep it simple," the LA-based content creator tells TZR of her typical makeup routine. "I love a glowy makeup look and keep it as easy as possible."
When doing her makeup, she focuses on bringing out her natural features. The relatable move is exactly why her 395K followers view and engage with her videos, whether she's demoing how she mix-and-matches two Rare Beauty liquid blushes for the ultimate glow or doing a blind test of Kosas' new lipsticks to find out how the shades fare on dark skin tones. As for when she does want to spice things up, she says she goes for winged eyeliner and a bit more concealer for extra coverage. And if this sounds up your alley, you'll find tips for it on her feed, too.
But her favorite hack for a seamless, second-skin makeup look? Ditch the cosmetic sponges and brushes. "...I've been super into applying my makeup a bit more with my hands lately. I love how natural the final product looks," she says.
Makeup aside, Bravo's content is also a treasure trove for hair care tips for those rocking braids (her go-to look for the summer months) and first impressions on the buzziest glow-boosting skin care launches.
But among all of the new products that land on her doorstep, Bravo has favorites she'll always keep stocked in her medicine cabinet. Ahead, the staple splurge and affordable makeup, hair care, and skin care products in the content creator's routine.
Bravo's Favorites Over $25
Bravo's Favorites Under $25