This Eyeshadow Palette Is $13.99 & Has More Than 400 Perfect Reviews At CVS
Amazon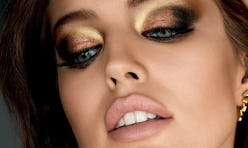 We may receive a portion of sales if you purchase a product through a link in this article.
It seems like every month a new eyeshadow palette the beauty community says you need to buy is unveiled, promising to be even more beautiful than the last. Keeping up with the endless stream of makeup releases can be a drain on your wallet, and often times it's hard to know amid the beauty community's hype how well a palette actually performs. Cut through the confusion next time you shop by browsing the best drugstore eyeshadow palettes before anything else.
Why skip the mall for drugstores? The answer is simple: Cult drugstore beauty products win the status by performing fantastically over time. Treat a drugstore website's review section like an honest high school friend that told you exactly which makeup was worth buying. Because while you may pre-order the latest eyeshadow palette from your favorite brand because you're a fan of the marketing or previous products, you'll buy Maybelline New York's The 24K Nudes Eyeshadow Palette because it's accumulated over 400 perfect reviews on CVS website.
The fact that the sultry, 12-shade autumnal palette retails for only $13.99 at CVS is a bonus perk. Besides its cult status online, the pretty palette has picked up jaw-dropping accolades since its early 2017 release: Adriana Lima's 2017 Met Gala look included the palette's soft shades and makeup artist Erin Parsons used the plum shade for La Perla's Naomi Campbell-led runway show.
If you prefer more of a matte finish, grab the Maybelline New York The City Mini Eyeshadow Palette in Brooklyn Nudes for $10.49 instead. The affordable 6-shade palette has an astonishing 1,003 five star reviews, and fans say it has all the right qualities an eyeshadow palette needs: you can wear the colors anywhere, the formula is long-lasting, and the shadows are highly pigmented.
Maybelline isn't the only brand making high-quality drugstore eyeshadow palettes. With a rainbow of 12 shades, the $8.99 Rimmel Magnif'eyes Eyeshadow Palette in Colour Edition is a versatile, colorful palette. Use the smoky purples and glittery neutrals for casual looks, then dip into the bright matte blue or the shimmery burnt orange for special occasions. Having a pan of crisp white is a smart addition to the palette, too: Layer it under the colorful shades to make them pop even brighter.
You won't miss out on all of the beauty community trends just by shopping at the drugstore. Pale pinks and rosy reds are still eyeshadow color trends even as late winter approaches, and there are affordable options for getting the blush look on a budget. The peach-scented L'Oreal Paris Colour Riche Paradise Enchanted Eyeshadow Palette includes a variety of warm, pinky shades and only will cost you $16.79. Though you can use it to build everyday bronze eyeshadow looks, pack on the palette's deep coral shade to achieve the monochromatic pink trend.
Drugstores have shown this year that they're dedicated to bringing affordable cult beauty products to the masses, and if you haven't gotten hip to their beauty aisles, start with the eyeshadow. Ahead, nine eyeshadow palettes under $17 at drugstores that live up to the hype.
This article was originally published on