Walgreens Is Adding More Than 40 Cult-Favorite Beauty Brands To Its Stores In 2019 — Here's Why
Birchbox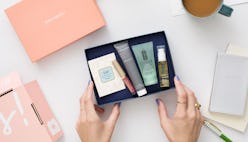 Any indie beauty brand lovers will still remember the dark days of inordinate shipping prices and waiting weeks by the front door for UPS. Thankfully, more and more brands that were once online-exclusive are now becoming available to shop in brick-and-mortar stores. Morphe is at Ulta, Jouer is at Sephora, and now, some of the prestige brands offered at Birchbox are coming to Walgreens. On Oct. 4, Walgreens and Birchbox announced that the brands are partnering to bring in-store Birchbox experiences to select Walgreens stores, with 11 initial locations set to roll out by January 2019.
With the pilot experience, Walgreens is focusing on bringing products everyone wants to shoppers that may not have had access to them before. Thanks to this partnership, over 40 of Birchbox's beauty, skincare, and hair brands will be available, including Wander Beauty, Embryolisse, Winky Lux, Huxley, Beachwaver, IPKN, Acure, and ARROW (to name just a few).
"Our customers want to shop the most sought-after brands in a welcoming and accessible environment, and the addition of Birchbox to our growing beauty offering is a big step in delivering on our promise to differentiate and elevate the beauty experience at Walgreens," said Richard Ashworth, President of Operations at Walgreens in a press release.
The entire experience will be aimed toward making all customers feel welcome, especially beginners who may feel left out of the beauty community. Products won't be arranged by brand — instead, the space will be segmented by beauty routine steps (like moisturizing) or beauty goals (like brightening). Shoppers will also be able to create their own custom Birchbox from sample products available at Walgreens, an experience previously only available at the New York City and Paris Birchbox stores.
And if you're still on the fence about shopping higher end products at a drugstore, each location will have a Birchbox-trained Walgreens Beauty Consultant available for both retail advice and makeup demonstrations. So in case you get overwhelmed picking between the Wander Beauty Catch The Light Highlighter and Glowtion and the rms beauty Living Luminizer, an experienced consultant will be there to swatch both products with you to find your perfect glow.
Best of all? Walgreens' loyalty program will count toward Birchbox products. Which means it's time to go check how many balance points you've saved up over the years.
With so much focus on making high quality beauty products accessible to everyone and educating beauty beginners on how to use them, this partnership between Birchbox and Walgreens shows how the beauty community is starting to become more inclusive over time.
"Walgreens is deeply committed to beauty and shares our vision for a different type of retail experience — one that is holistic, seamless and designed to help shoppers make informed, confident decisions," said Katia Beauchamp, CEO and Cofounder of Birchbox, in a press release.
The first Birchbox experiences will launch in Chicago, Los Angeles, New York, and Minneapolis in December 2018, with five more stores to follow throughout January 2019 in Chicago, Los Angeles, Dallas, and Miami.