The Best Budget-Friendly Straighteners To Add To Your Hair Tools Collection
Don Stahl/WWD/Shutterstock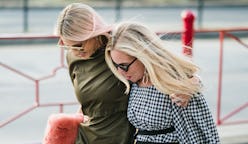 Sleek, shiny hair exudes polish and put-togetherness. It's like smooth strands just have a way of making you feel way more on top of your game than you may actually be — especially during the end-of-year rush, filled with work deadlines, holiday events, and everything in between. But before you spend more than you'd like this season on salon blowouts or that expensive flat iron you've been eyeing, know that getting glossy locks is possible without totally blowing your budget. Just snag yourself one of the best cheap straighteners the next time you're stocking up at some of your most-frequented stores.
Read more: Ceramic Vs. Titanium Flat Irons: Here's What Top Stylists Prefer
Hair care can be hard to shop for. You want to be picking products that are effective enough to achieve your desired results, without having to pay an exorbitant amount to get the job done. When it comes to hot tools, you also want to make sure you'll be using a product that won't cause undue damage to your hair — totally fried tresses are the opposite of chic. And while there's a whole world out there of pricey pro-level straighteners from high-end hair brands, it turns out it's actually possible to score a satisfactory straightening tool for much less.
It may surprise you what less than $50 can get you when shopping for flat irons at stores like Target, Ulta, Amazon and more, but trust the hundreds of reviews calling these bargain buys the real deal. Especially if you consider using hot tools only when you need an extra level of polish, or to quickly smooth out hair when you're in a pinch, the industry's cheaper picks are more than suitable to your needs — don't bother shelling out a significant portion of your paycheck for a high-priced hot tool that'll go unused more often than not.
So, which ones are worth their weight? HSI Professional's flat iron hair straightener, $39.36, has more than earned a mention, with over 21,000 five-star reviews on Amazon. The ceramic-plate iron has won over its fans because of how quickly it heats up, how smoothly it straightens hair (no painful snags!), and how long the results last. One reviewer says it works well enough to keep hair smooth for up to four days, while another claims it's more effective than a much more expensive alternative. The kit sold on Amazon also comes with a travel pouch, hot tool glove, and a sample argan oil hair treatment, so you'd be getting more than your money's worth with this cheap pick.
Industry giant Conair's also got an affordable flat iron with tons of positive reviews: the Infiniti Pro Rainbow Titanium Flat Iron. The straightener, typically $44.99 at Ulta but currently down to $39.99, has just under 200 top-rated reviews, lauding the tool for smoothing frizz and adding shine to strands. Plus, reviewers like that the cute, rainbow-colored plates heat up in 30 seconds or less — meaning you can get to styling in a snap.
Users with super-thick hair have given Remington's 1" Pearl Straightener the stamp of approval on Target's website, praising it for quickly and easily smoothing strands. According to reviewers, the $24.99 tool stands up to counterparts that are more than six times the price, so you'd be hard-pressed to find a better deal out there. It has multiple heat settings, allowing you to adjust the quick-heat plates to just the right temperature to create pin-straight hair or soft curls.
If you foresee some heat styling in your near future, but can't bear the idea of cutting into your holiday shopping budget to go in on a straightener, shop some of the best affordable yet effective options below. Your hair and your bank account will thank you.