Guess Which Cult-Favorite Skin Care Brand Just Got Into The Fragrance Game?
Hint: The scents are peak summer vibes
@summerfridays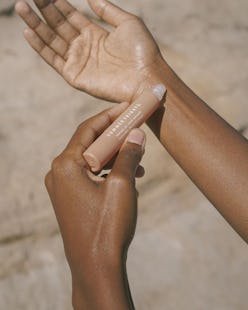 While most are practically giddy with the ever-cooling weather, sheer volume of pumpkin-infused products, and shortening days, it's also fair to say that summer will be deeply missed. Even for those firmly in adulthood and working full-time, the summertime never fails to feel like something of a break — everyone's significantly more chill and relaxed, and clocking off early to go grab an Aperol Spritz is a more than acceptable decision. So glorious are those so-called Summer Fridays that influencers-turned-moguls Marianna Hewitt and Lauren Ireland decided to name her best-selling brand after the practice. Now, Summer Fridays' just launched its first fragrance, so the summer vibes can live on forever — even if the actual season has to end.
The fragrances, available exclusively in three limited-edition rollerballs while supplies last, are essentially a luxury vacation distilled down into perfume form. The scents themselves are rich, warm, and evocative: Coconut Wave, Crisp Citrus, and Soft Vanilla. The perfect-sized product for complying with TSA regulations and unforgivably tiny evening clutches alike, they're almost like summertime smelling salts: take a deep whiff every time you miss beaches, cutoffs, and cookouts. And because these perfumes are oil-based, they work with your body's warmth for an enveloping, extended-release of fragrance throughout the day.
The first scent in the lineup, Coconut Wave, is one you might be familiar with if you've used Summer Fridays' incredible body lotion and original Lip Butter Balm — the smells are both cozy and coconut-powered for a transportive, tropical scent. Layered with eucalyptus and sugarcane, it's the fragrance equivalent to a sensual vacation romance.
Citrus is having a moment in fashion, and it's clearly extending to beauty with the Crisp Citrus scent, built around the Italian Riviera's favorite calling card: limoncello. Frozen lemon and lime zest keep the wearer awake, refreshed, and mentally in Portofino. Finally, Soft Vanilla rounds out the list with sweet notes of almond blossom, pistachio, and vanilla cream. Critically, though, while the scent is undeniably sweet, it doesn't veer into saccharine territory — a major victory for any vanilla-based fragrance.
Judging by the excited comments up and down the Summer Fridays Instagram page, it's safe to say the brand's done it again and pulled off yet another incredible launch — and to think it all happened on a Fall Tuesday, too.
We only include products that have been independently selected by TZR's editorial team. However, we may receive a portion of sales if you purchase a product through a link in this article.