Selena Gomez's Latest Friendship Tattoo Is Dedicated To This Celebrity Couple
@selenagomez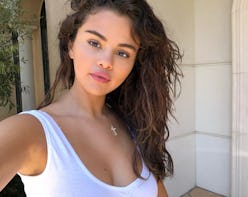 To ring in 2023, celebrities spent New Year's Eve in the most lavish possible situations — yacht-cruising, skiing through Aspen, touring exotic locales, or just living it up at private parties with a tighter guest list than the Oscars. In Selena Gomez's case, the festivities combined a bit of everything to create something of the ultimate vacation. Joined by friends Brooklyn Beckham and his wife, Nicola Peltz Beckham, the trio ushered in midnight with more than a little fanfare in Los Cabos — and some tiny friendship tattoos precious enough to make anyone coo. Selena Gomez's angel tattoo spells the word out just above the inner crook of her elbow, a perfect match to Peltz Beckham's own in the same spot.
The blink-and-you-miss-it ink, shared to Gomez's Instagram Story in between photo dumps of her friends frolicking on the beach and climbing up yacht ladders (casual), seems to have been taken on actual New Year's Eve night judging by the sparkly Valentino sleeves visible in the shot. Though the Story is just captioned with single a dainty heart, her grid posts provide plenty of insight into Selena Gomez and Nicola Peltz's friendship. "Fine, calls us a throuple #foreverplusone," she added to one collection of photos that show the Beckhams and Gomez in all kinds of silly, sweet scenarios, including some group hugs, snuggle sessions, and getting ready for the big night together.
The special silver gowns were a gift from Valentino, according to Gomez, who called them angel dresses in a caption alongside pictures of her and Peltz striking some best friend photo poses. Looking indeed like a pair of wintry New Year's angels, the hers-and-hers dresses will surely inspired more than a few copycats in 2023.
This isn't Gomez's first go-round with permanent ink — be they BFF tattoos or larger pieces of body art. Just last year, Selena Gomez and Cara Delevingne's matching tattoos of large, dripping, watercolor roses made headlines thanks to the design's intricate nature and the touching dedication to friendship it symbolizes.
Along with her rose, Selena Gomez's 17 other tattoos include praying hands with a rosary, a music note, the year 1976 in Roman numerals, a semicolon she got with the 13 Reasons Why crew, and the phrase "love yourself first" in Arabic. With small tattoos you can easily hide on the rise in general, it's no surprise Gomez and Peltz Beckham went for such a small, cute phrase on their arms. No word yet on if Brooklyn Beckham got one too to complete the trifecta.