This Derm-Approved Ingredient Helps Fight Acne Prone Skin While You're Wearing Makeup
@tyra_brielle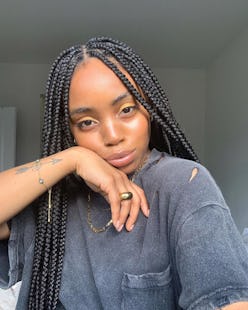 To better understand how your makeup works (and each product's necessity), it helps to think about the very literal meanings of their names. Foundation is just that, laying the groundwork for all products that come after. Lip liner, so named for the way it helps flesh out even the most recessed lip shapes, highlight puts the focus on bone structure high points, and primer helps the prepare the canvas to make it all happen. With so many primers on the market (and many brands offering several different primers within their own collections alone), choosing the right primer for acne-prone skin can feel like an uphill battle. Fortunately, dermatologists and skin experts point to a few key ingredients that make the search for the perfect pore-friendly primer much easier.
When used properly, a great primer can be the difference between a lasts-all-day face and creased, faded makeup. Conversely, a primer not suited to your skin's individual needs — particularly for the acne-prone — can clog pores, triggering a wave of irritation and breakouts.
According to Dr. Ellen Marmur, dermatologist and founder of Marmur Medical, scanning the ingredient list before making a purchase is the way to know whether the primer is a solid choice for acne-sensitive skin. "Always look for hyaluronic acid and glycerin," she advises, "to moisturize and heal the skin without clogging pores." Corroborated by Dr. Heidi Waldorf, dermatologist and founder of Waldorf Dermatology Aesthetics, those ingredients "act like a sponge to pull moisture into the skin and hold it, and will hydrate the skin and reduce scale without aggravating your skin."
Read more: How To Treat Fungal Acne On Your Face When Nothing Else Works
But primers aren't just for prepping skin for concealers and foundations. If you opt for a primer infused with a mild exfoliant, like AHA-filled glycolic acid, you're effectively fighting acne while covering it up — a real best-of-both-worlds scenario. "The ideal product should encourage exfoliation in the pores while hydrating the skin, and will not be too irritating," explains Dr. Adebola Dele-Michael, Medical Director of Radiant Skin Dermatology and Laser in New York City. AHAs like glycolic acid works for the skin because they don't cause too much irritation, Dele-Michael adds, which is ideal, considering makeup is meant to enhance — not inflame.
Ahead, see the best primers for acne-prone with dermatologist-approved ingredients to help reveal your best skin (and look) yet.
We only include products that have been independently selected by TZR's editorial team. However, we may receive a portion of sales if you purchase a product through a link in this article.
This article was originally published on