These Powders Blur My Textured Skin Like A Dream
Kelsey Stewart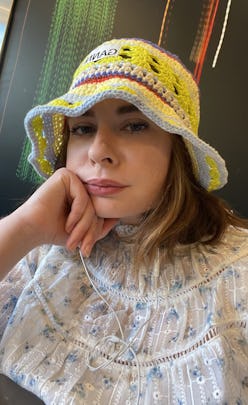 We may receive a portion of sales if you purchase a product through a link in this article.
At this point, it feels like I've tried almost everything under the sun to smooth out my slightly bumpy skin, which is a result of picking at my breakouts as a teen (fortunately, Accutane came to the rescue). Tretinoin? I use a 0.025% prescription two to three times a week. Chemical peels? Been there, done that. Professional lasers? Yes, I've even dabbled in that arena. And while these treatments have all certainly been effective, I've come to terms with the fact I'm probably never going to have a pore-less, radiant complexion à la Hailey Bieber. (Unless, perhaps, I win the lottery and can afford celebrity-level procedures... a girl can dream.) However, I have found products that work wonders for a blurred appearance. Powders for textured skin, specifically, are among some of my favorite formulas.
I should mention I have combination skin (meaning my T-zone tends to get oily, while elsewhere it's a bit dry), so I lean towards powders that get rid of any unwanted shine. And I don't usually typically douse my whole face with product — just my forehead, nose, under eyes, and chin — as I feel it makes my makeup look cakey and less natural. Another thing worth bringing up? I like to use both pressed and loose powders — I'm not firmly on one side or the other (I will say the former is much less messy, though).
Ahead, take a look at the powders I swear by for textured skin. Plus, the products I use in tandem with them.