I Tried This $600 At-Home Laser & Canceled My Filler Appointment
Smoother, firmer skin with the press of a button.
Sara Y. Wu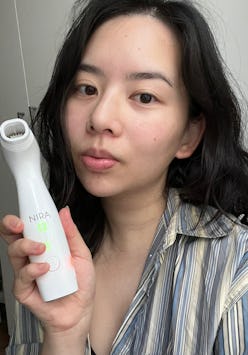 We may receive a portion of sales if you purchase a product through a link in this article.
In our series Trial Run, TZR editors and writers put the buzziest new beauty products to the test and share their honest reviews. This week, beauty writer Sarah Y. Wu is testing NIRA's Pro Laser.
I take my Botox and filler appointments very seriously, arranging my calendar around them the way some people do for weddings. (Yes, I will get on a plane just to visit a trusted dermatologist in another city.) So the fact that I've gone a full year since my last round of injections? Shocking. No, I'm not breaking up with my derm; life has just gotten in the way of any travel plans recently. But in the process, I've amassed an extensive collection of at-home devices promising to provide similar results. There are tools to sculpt my jawline, shrink breakouts, boost skin-care absorption, and improve hair growth, all of which I love and use on a regular basis. Still, nothing has impressed me more than the NIRA Pro laser.
Designed to treat fine lines and wrinkles, the NIRA Pro works by gently heating your skin to boost collagen production on your face and body. "It works similarly to exercise and muscle; it takes time for the collagen to rebuild, and best results are seen with continued routine use," says David Bean, founder of NIRA. The brand recommends 90 days of continuous daily treatment, so that's exactly what I did — focusing on my face, neck, and chest. Ahead, my honest thoughts on whether it's worth the investment after three months of rigorous testing.
Fast Facts
Price: $599
FDA Approval: FDA-Cleared
Best For: Anyone over the age of 22 that wants to reduce fine lines and wrinkles at home
Technology Highlights: Non-ablative, non-fractional laser
What We Like: Delivered visible results, reduced wrinkles over time, improved overall skin quality, short treatment time, easy to use, safe for use on all skin tones
What We Don't Like: Larger treatment tip is tricky to navigate around eyes (smaller tip must be purchased separately with the NIRA Precision Laser)
Rating: 5/5
How TZR Keeps Score: 1/5: Making a return; 2/5: Keeping as a backup; 3/5: Finishing to the last drop; 4/5: Recommending to my group texts; 5/5: Already on auto-replenish
The Technology
NIRA's Pro laser uses a patented non-fractional, non-ablative laser technology to reduce wrinkles. This means it's able to treat larger areas of your skin without removing any of the outer layers. "These lasers are minimally invasive and use heat technology to stimulate collagen production underneath the skin to diminish the appearance of fine lines, wrinkles, dark spots, and acne scars— and improve skin texture and tone," says Dr. Michele Green, M.D., a board-certified dermatologist in New York City.
Unlike in-office lasers, NIRA's device uses lower wavelength frequencies that don't cause pain or require downtime. On the flip side, this also means it's not as powerful as an in-office laser would be in a single session. Dr. Green recommends at-home lasers like the NIRA Pro "for those with mild to moderate fine lines, wrinkles, acne scars, and dark spots."
Dr. Hadley King, M.D., a board-certified dermatologist affiliated with the brand, classifies the NIRA Pro as a "near-infrared laser." Its laser diodes work at a wavelength of 1450 nm, which target peak absorption in your skin's layers. "The dermal layer heats up to just under 45 degrees Celsius, which is right above the level of heat shock protein (or collagen production) to avoid pain and redness," she says. By spreading this energy over repeated daily treatments, it puts in cumulative energy to generate the same wrinkle reduction you'd see from an in-office treatment. NIRA also touts its lasers as safe for all skin tones. "NIRA Pro was designed to be equally effective independent of the melanin levels in the skin," says Bean.
I was also curious to know how the NIRA stacks up against other popular at-home devices. Radiofrequency tools, for instance, also use heat to boost collagen. But dermatologists say that the technology differs. "While the NIRA Pro uses laser light to generate heat, radiofrequency devices use safe, low-frequency electromagnetic waves to heat skin cells," says Dr. Green. A small plus is that while RF devices require a conductive gel to reach the deeper layers of your skin, NIRA's laser technology is designed to work on clean, dry skin, which requires no additional products to reap the benefits.
NIRA also differentiates its technology from LED masks and devices, which use low-level light therapy to do everything from healing acne, to reducing wrinkles, to speeding up hair growth. When it comes to stimulating collagen, Dr. King and NIRA both say that NIRA's laser technology is 200 times more powerful than LED, requiring shorter treatment times and producing longer-lasting results.
My Typical Skin Device Routine
My device routine is so extensive that I'm sometimes amazed I manage to get anything else done. I use a combination of masks and handheld devices on a daily basis to target my face, scalp, eye area, neck, and chest. As much as I love a good vitamin C serum or eye cream, I can't deny that the results I get from microcurrent and lasers far surpass most topicals.
If I had to pick just a few from my collection, I'd hold tight to my NuFACE Trinity+, a microcurrent device that gives me a mini facelift every time I glide it over my jawline, cheekbones, and forehead. I'm also very attached to my Dr. Dennis Gross DRx SpectraLite EyeCare Max Pro, a wearable LED mask that wraps around my eye area to target my 11 lines and under-eye lines in minutes. And of course, my NIRA Pro.
My Experience Using the NIRA Pro Laser & Results
After a few weeks of using my NIRA Pro, I could already tell it was going to become my new skin care soulmate. Still, I committed to the recommended 90 days of daily testing to see its full potential. This involves three to five minutes of daily use, depending on how large an area you're treating.
Each treatment area requires 10 pulses, which takes mere seconds to complete. It's also one of the most intuitive devices I've used. To turn it on, I press the power button, then select my desired level from 1-5. According to Bean, the best level is the one that feels comfortable to you. "There is no official testing that proves using the NIRA Pro Laser at a higher level will decrease the amount of time needed for results," he says. Since I've only ever felt warmth, not discomfort, I crank mine all the way up. From there, NIRA's built-in sensors take over. It beeps once when I place it flush against my skin to signal contact, then beeps again when 10 pulses are complete. Then, I simply lift and move it to the next treatment area, repeating until I've covered every area I want to treat. I tend to only use it at night after cleansing, but Bean says it can be used up to twice a day "for possible enhanced results."
My skin before using the laser. Sarah Y. Wu
My skin after using the laser. Sarah Y. Wu
In testing, I focused on my full face, as well as the banded wrinkles on my neck and chest. One of my favorite things about NIRA's laser is that it can safely be used on my full neck, including the front where my thyroid gland sits. "It's absorbed just below the epidermis in the dermal layers," says Bean. "The laser energy does not go any deeper and thus does not impact any organs deeper than the skin." The only places to avoid are your eyelids and areas of irritated or injured skin, including active breakouts. Dr. King also advises avoiding use after dermarolling or microneedling until your skin is fully healed.
Most of the time, the NIRA Pro's large, square tip made quickly treating large areas of skin a breeze. But, it became difficult to position when it came to my under-eye and brow area. I had much better luck navigating around my eyes with the NIRA Precision Laser, a $449 device that pairs the same technology with a small precision tip for treating marionette lines, crow's feet, under-eye wrinkles, and hooded eyes. I loved the Precision's smoothing effect on my under-eye lines, but found myself wishing that the brand could combine removable tips in a single device for ease of use.
As the weeks went on, I started noticing significant changes in my skin. As early as the first few weeks, the skin on my face became noticeably plumper, firmer, and healthier — to the extent that friends frequently asked if I had just gotten a facial. Dr. Green advised me to pair my laser routine with ingredients I already frequently use: vitamin C and retinol. "Additionally, sunscreen should always be used after this type of laser treatment to protect the skin from UV damage and to maximize results, as excessive sun exposure can lead to the premature development of fine lines, wrinkles, and hyperpigmentation," she says. I'm hypervigilant about SPF to begin with, so this advice was all too easy to follow. After three months, my skin felt as bouncy as a jello cup.
My neck and chest before using the laser.Sarah Y. Wu
My neck and chest after using the laser. Sarah Y. Wu
From my neck down, I was floored. I've been treating the lines on my neck and chest with LED for years, but the Pro definitely gave me more visible results in a shorter amount of time, just as Bean and Dr. King had promised. While these lines didn't fade as much as they would after a vial of filler, they definitely looked a lot smoother than they had pre-treatment.
Is NIRA's Pro Laser Worth It?
I love it when a device makes good on its claims, and my NIRA Pro has fully lived up to the hype. It's an investment but still comes at a much lower price point than an in-office laser treatment, which can easily run you $3,000-$10,000. Bean says the device is safe for all skin tones and types and can be used by anyone over the age of 22, but I'd recommend holding off on the splurge until you have visible lines to treat. After witnessing the effect it had on my skin, I'm sold. I won't be skipping my Botox and filler appointments forever, but I'll definitely delay the next round for another few months.