Paula's Choice Sells One Of This Holy Grail Product Every 7 Seconds
@paulaschoice via @skimcareee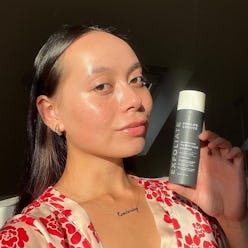 The name of Paula's Choice no.1 selling product — the Skin Perfecting 2% BHA Liquid Exfoliant — might seem like hyperbole, but for those who swear by it, it's anything but. "My skin is the best it's ever been. I love it," TikTok user @JasmineHeather4 says in one of many viral reviews on the platform. In another, @JenJen.Gomez calls Paula's Choice exfoliating toner "one of the products that saved my skin." With so many drastic before and after photos showing significantly reduced pore size and a clear, glowing complexion, it's no surprise that the toner continues to draw significant buzz.
While it's seen a recent spike in popularity, the BHA Liquid Exfoliator isn't a new product. Launched in 2000, it was one of the industry's first leave-on exfoliants and has been a best seller for over 20 years. According to the brand, Paula's Choice sells one BHA Liquid Exfoliant every seven seconds and more than 1.25 million units globally each year, based on 2021 global sales estimates. Not only that but it's being touted by influencers and experts alike and is even beloved by celebrities like Kaia Gerber.
So, how exactly does this seemingly magical formula work? Skin becomes dull, dry, and congested when dead skin cells build up on its surface. As with any BHA (beta hydroxy acid) exfoliator, this toner uses salicylic acid to slough away dead skin cells, unclog pores, and improve skin texture by going deep into the dermis to mimicking the natural exfoliation process of younger skin by helping it shed extra layers. What really makes this toner stand out, however, is the virtually instantaneous result.
"[The formula] strikes the perfect balance between being soothing, hydrating, lightweight, and effective," Desiree Strodahl, Paula's Choice Director of Applied Research and Education, tells TZR. "It works incredibly fast thanks to a penetration-enhancing ingredient (methylpropanediol) that boosts BHA's ability to clear out stubbornly congested pores, while also having a hydrating effect on the skin. The green tea rounds out the fragrance-free formula with skin-soothing, antioxidant properties."
While it's commonly thought that BHAs are best suited for oily or acne-prone skin, this toner is beneficial for all skin types — yet another reason why it's a winning formula. "BHA doesn't just exfoliate inside in the pore, it also refines the surface of the skin where dead cells build up making skin look dull, rough, and flaky," Strodahl explains. "By gently shedding the bonds that are holding dead cells to skin's surface, the smoother, younger, healthier-looking skin hiding underneath comes to the forefront—something all skin types benefit from."
Due to the potency of the product, the brand recommends starting slow and applying the toner on a cotton pad to clean dry skin, every other day and noting your skin's response. You can then use it up to twice daily if your skin handles it well for the first few weeks of use. For daytime application, always finish with SPF 30+.
If you've yet to get your hands on the exfoliating toner see below to join in on the hype and see for yourself why so many call this product a true holy grail.
We only include products that have been independently selected by TZR's editorial team. However, we may receive a portion of sales if you purchase a product through a link in this article.
This article was originally published on