The Best No-Downtime Treatments For Every Skin Concern, According to Experts
No need to cancel your dinner plans.
Shutterstock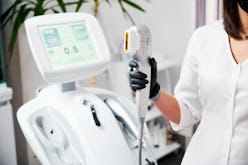 Before and after photos make it tempting to book in-office, corrective skin care treatments. But downtime — the short-term aftermath that can include redness, flaking, textural changes, and even bruising and swelling — makes scheduling appointments for lasers, peels, and all varieties of skin needling (nano, micro, radiofrequency, et al.) difficult at best. Not everyone has the luxury of hiding away at home with a puffy, red face, or wants to head out to dinner with flaking, peeling skin. This is why zero-downtime skin care treatments are on the rise.
"No-downtime treatments are a lovely way to refresh your skin and have the amazing benefit of addressing just about all of the common skin issues or complaints," says Karen Fernandez, lead esthetician at SkinSpirit. "These lighter treatments will brighten skin tone, soften fine lines, hydrate, and smooth, but are not your heavy-hitting, corrective treatments that really move the anti-aging needle and come with time for recuperation." When it comes to these so-called "lunchtime lasers," Beverly Hills-based, board-certified dermatologist Dr. Ava Shamban collectively refers to the Minimally-Invasive Little-to-no-Downtime (M.I.L.D.) energy category as treatments that work more gently than their predecessors.
If you are willing to deal with a day or two of flaking, the options are endless — from Procell micro-channeling, Dermalogica's nano-needling, and Vitaglow infusions, to the Clear & Brilliant fractionated laser or the UltraClear cold laser. But when it comes to absolutely no downtime, there are also a number of discreet, minimally-invasive treatments from estheticians, aesthetic nurses, dermatologists, and plastic surgeons that leave the surface of the skin intact (and often glowing) so that you can still wear makeup and keep up with your social calendar.
Ahead, the best, expert-recommended, no-downtime skin care treatments for tightening, lifting, clearing, brightening, and so much more.
Tightening
Skin tightening treatments target laxity in the skin that results from the drop in production of structural proteins, collagen, and elastin that naturally occurs with age. Subtle skin tightening helps to sculpt the face and sharpen its contours, such as the jawline.
Sofwave
Dr. Shamban names Sofwave as one of her favorite "lunchtime specials" for tightening, lifting, and toning the skin. The device uses a fractional ultrasound beam that is lauded for being less painful and more user-friendly than its older alternatives. Medical esthetician Amy Peterson notes that its Synchronous Ultrasound Parallel Beam Technology (SUPERB) rebuilds collagen in the face, treating skin laxity of the neck, submental area, and even the eyes via lifting the brow, while also addressing facial lines and wrinkles on the face. Dr. Shamban adds that skin will be plump and feel tighter almost immediately, but that over time the "fibroblast cascade response [that] supports skin thickening, tightening, and firming." As board-certified nurse practitioner Jennifer Hollander of the Beverly Hills Center points out, Sofwave generates new collagen, elastin, and hyaluronic acid in the skin.
Radiofrequency
While radiofrequency microneedling like Morpheus tends to get all the attention, there are gentle ways to deliver the collagen-inducing energy to the face. Board-certified dermatologist Dr. R. Sonia Batra, who practices in Santa Monica, recommends lifting radiofrequency treatments before red carpet events. She describes the energy as a "very long wavelength to heat the skin and produce a firmer appearance in the short and long-term" and is partial to the Venus Concept DiamondPolar device.
Beverly Hills-based, board-certified oculoplastic and reconstructive surgeon Dr. Kami Parsa recommends Forma RF. "A Forma facial feels like a hot stone massage as the energy is conducted through the skin into the dermal layer using an ultrasound jelly," says board-certified internal medicine doctor Dr. Rahi Sarbaziha, who specializes in integrative aesthetics. "The effect is collagen remodeling and stimulation, yielding smaller pores, tighter skin, and a glowing appearance." Naturopathic doctor Dr. Nadia Musavvir, who practices integrative aesthetics, recommends weekly sessions for six weeks in a row, and then monthly maintenance treatments for the best results.
EmSculpt EmFace
New York-based, board-certified plastic surgeon Dr. Jennifer Levine is a big fan of EmFace, a device that combines radio frequency and high-intensity facial electrical stimulation (HIFES) to tighten the elevator muscles of the face. This lifts the face after roughly four sessions, and feels like having a grandma gently pinch your cheeks.
Fine Lines & Wrinkles
Treating fine lines and wrinkles typically calls for treatments to induce collagen production in the skin, and many of the treatments in this list will do so. But unlike neuromodulators such as Botox and Daxxify, or microneedling and fractionated laser treatments that ablate the skin, the options below work non-invasively, keeping the skin surface damage free.
Microcurrent
For a truly soothing — albeit temporary — lift, microcurrent devices that deliver gentle electrical currents into your facial muscles can be incorporated into facials to sculpt and define the contours of the face. "Microcurrent is a great, non-invasive treatment to really tone, tighten, and lift the skin," says celebrity esthetician Shani Darden. "I have microcurrent gloves that I'm obsessed with and use in all of my facials. They are especially amazing because they allow for a more evenly distributed, deeper treatment, and I love to scoop up the cheek muscles for more lifted and sculpted cheekbones." When performed by experienced facialists like Darden, celebrity facialists Sora Conner in Los Angeles, and Jill Black in Miami, the treatment is so effective that your crow's feet will disappear for weeks at a time while your cheekbones will be instantly lifted sky high.
LED Therapy
Sessions under FDA-cleared light devices like LightStim take time and consistency, but boast evidence-based results when it comes to collagen production and healing. "Light therapy is so healing on many levels," explains Dr. Musavvir. "The effects of photobiomodulation on the skin specifically lead to increased collagen production." It does so by targeting the cells' mitochondria, which are like little batteries, generating ATP to perform their cellular functions more readily. "I finish all my facials with LED light to boost collagen in the skin, minimize fine lines and wrinkles, and increase circulation for an amazing glow," Darden corroborates, whose love of the technology resulted in the launch of the Shani Darden by Déesse Pro LED Mask for at-home top-ups. Note: Blue light is beneficial for breakouts.
Laser Genesis
"Laser Genesis has no downtime for treating fine lines," says board-certified plastic surgeon Dr. Theda C. Kontis, President of the American Academy of Facial Plastic and Reconstructive Sugery (AAFPRS). It heats the skin to promote neocollagenesis (the production of collagen), and also helps with redness, scarring, and even acne. The recommended treatment protocol is for three treatments spaced two to three weeks apart with maintenance treatments every three to four months. Other non-invasive lasers in this category include the Neoskin by Aerolase (see below), PicoGenesis, and more; the key is to ask for a non-ablative and non-invasive laser.
Vibration Therapy
"My facials incorporate vibration therapy, which is an amazing treatment I've been using in my facials for years to help tone the skin and smooth out wrinkles by targeting them at the source," says Darden, whose facials are beloved by stars like Kim Kardashian, Jessica Alba, and Shay Mitchell. "It transmits acoustic sound waves up to 6cm (2.4 inches) below the skin's surface, providing deep muscle stimulation to target crow's feet, eyebrow furrows, and nasolabial lines under the the surface of the skin, achieving long-term and immediate benefits. They also boost circulation to increase the skin's oxygen uptake, resulting in more glowing, youthful skin."
Hyperpigmentation
Unwanted pigmentation is one of the most difficult skin concerns to treat, but in-office treatments without aggressive downtime do exist. Oftentimes, these lasers feature intense pulsed light technology that temporarily darkens spots of pigmentation before they flake off. Depending on the source of your pigmentation, breakout prevention might actually help prevent post-inflammatory hyperpigmentation (PIH) or erythema (PIE) causing your concern. If you suffer from melasma, it is important to remember that heat-based treatments can actually trigger the condition, so always discuss if these options are right for you.
Aerolase by NeoSkin
Dr. Batra recommends a series of treatments with the Aerolase by Neoskin for hyperpigmentation, but it also rejuvenates the skin and treats breakouts by targeting the oil glands. "It is a long wavelength (1064nm) laser that is safe on all skin [tones] and types, and targets blood vessels and pigmentation." She adds that it requires no numbing, making it quick, and feels like a little shower of heat being delivered to the face. Patients leave with a bit of a post-treatment glow.
BBL Hero
"BBL Hero is the gold standard for the treatment of dyschromia (i.e. pigment or sun damage) and rosacea," says double board-certified plastic surgeon Dr. David Sieber, who is based in San Francisco. "There is literally no downtime [from this light treatment], although it is normal to be a little red for an hour or two immediately after." He adds that the light changes the DNA in the skin, making it a great anti-aging treatment, with two-to-three sessions spaced four-weeks apart recommended for optimal results. "If treating something like sun damage, it may take up to 30 days for the dark spots to disappear, but it's normal to have a nice glow immediately after treatment." Medical esthetician Joie Tavernise, founder of JTAV Clinical Skincare, adds that IPL is a popular alternative.
Enzyme Therapy
Dr. Parsa recommends enzyme therapy via a skin-renewing mask to improve pigmentation, scarring, acne, and redness associated with rosacea — all while tightening and smoothing the skin. "The uniform tightening of a renewal mask helps to flush the lymphatic system and promote a true reaction in the plasma-rich platelets in the skin with results that renew, reboot, lift, brighten, and tighten the skin," he says. "By utilizing transfer messenger enzymes, we are able to force fluid through membranes around the cells to flush out impurities similar to 'reverse osmosis.' The enzymes also charge the cells' mitochondria so that they can carry out their functions [for optimal cell health]."
Acne
While breakouts range in type and cause, treatments can help to prevent and minimize their onset, duration, and after-effects. Whether you are a sufferer of hormonal breakouts, struggle with painful cystic acne, or are hoping to prevent post-inflammatory hyperpigmentation (P.I.H.) and erythema (P.I.E.), or textural scarring, there are thankfully a number of options available to you that go beyond oral medications. Plus, some of them might already be offered or available at your monthly facials, such as blue LED light treatment.
AviClear
"There have been few no-downtime treatment options for acne patients until this year," says Hollander. "The new AviClear laser is a 1726-nm wavelength system that is FDA-approved to treat mild-to-severe acne and is safe for all skin types." Because the wavelength of laser bypasses the skin to target only the oil glands, the treatment itself — though uncomfortable — results in no downtime aside from potentially looking red that night. "This no-downtime procedure takes 30 minutes to complete and requires a series of three treatments spaced four-weeks apart [for optimal results]." Touted as the laser alternative to the controversial oral treatment Accutane, patients often notice a glow for the week following treatment and decreased skin oiliness over time. The recommended treatment protocol is three sessions spaced four weeks apart.
Kenalog or Cortisone Injections
If you have ever woken up to find that a painful, inflamed, underground zit has formed — also known as cystic acne — you already know that it can take weeks to resolve on its own. But if you have an upcoming event, you can book an appointment with your dermatologist or injector for a diluted injection of cortisone or kenalog to flatten the cyst overnight. Just note that you should only see an experienced practitioner and that it does come with some risks (discoloration, atrophy, and infection) if not properly diluted.
High Frequency
Dr. Nadia considers high frequency wands "great for anyone with acne or acne-prone skin." Holistic esthetician Katie Sobelman from Napa Valley explains that the high frequency tip uses a blend of ozone and a gentle electrical current to promote the oxygenation of the skin and neutralizing bacteria. It is frequently administered by estheticians atop a sheet of gauze and can be a great add-on to a facial, while working beautifully in conjunction with anti-inflammatory red LED or anti-bacterial blue LED.
Peels
In spite of the name, gentle peels do exist. These treatments can help the exfoliate and brighten the skin and clear up breakouts. "A superficial peel with salicylic and/or mandelic acids [can help reduce] redness and inflammation associated with acne," Fernandez says. "SkinMedica Illuminize peel is the perfect chemical resurfacer that brightens tone and calms acne with no downtime." Dr. Sarbaziha is a fan of the PCA Sensipeel featuring lactic acid, trichlorroacetic acid, alpha-lipoic acid, emblica, and silymarin, nothing that "80 to 90% of people will not peel from this." Meanwhile, it helps to control oil production for fewer breakouts, brightens the skin, and smoothes fine lines and wrinkles.
Dullness
Brightening the skin can come in handy prior to a high-profile event. Depending on who you go to, this can mean a gentle lactic acid peel, the oxygenation of the skin in an 02-to-Derm globe, a Hydrafacial with a booster, or a customized facial that combines multiple modalities.
Diamond Glow by Allergan
Fernandez calls the Diamond Glow by Allergan the "gold standard" in no-downtime treatments, particularly when paired with dermaplaning. "The Diamond Glow is a three-in-one dermabrasion technology that gently exfoliates, extracts waste, and pushes pro-infusion serums into the [pores and tissue] of your face to leave you feeling soft, supple, glowing, and clean," says Hollander. To take the treatment to the next level at the Beverly Hills Center, Hollander offers clients simultaneous IV therapy of a Myers Cocktail (i.e., vitamin C, B-complex, Magnesium, and saline) followed by sessions in the LightStim bed and ninety minutes in the hyperbaric oxygen chamber.
Hydrafacial With Regen GF Booster
Shelby Harvey, the Director of Marketing at NakedMD MedSpa in Orange County, points out that the classic HydraFacial is one of their most-popular and versatile requests in this category thanks to the customizable boosters, while Dr. Parsa lauds its multi-tasking hydrating, exfoliating, and cleansing functions within a single treatment.
But the beauty of the treatment is that it can be seamlessly incorporated into a facial alongside other glow-boosters. For pre-event facials, Beverly Hills-based celebrity esthetician Celeste Rodrigues performs a customized facial featuring the Hydrafacial's lymphatic drainage tip to sculpt the face, followed by the Regen Gf Booster for glow. This booster contains growth factor-rich M-007 Fulvate Complex and a range of skin-beneficial proteins that promote collagen and elastin production over time, diminish the appearance of fine line in the short-term, yields major luminosity. She then follows up with a cooling, anti-inflammatory Casmara jelly mask topped by red LED and performs a microcurrent treatment for sculpt and lift.
Dermaplaning
Fernandez explains that dermaplaning instantly brightens the skin by removing the vellus hairs and dead skin cells that cover the face with a razor. "Darker hairs cast a shadow and dead skin cells are often darker and oxidized, so removal of both can be a quick and easy glow," she adds of the treatment, which also allows the skin to receive active ingredients more efficiently. However, she warns that your skin might need a day or two to "calm down" if it is your first time trying the treatment.
Dark Circles
This treatment involves a cannula and injectable filler, but so long as you do not lie down two to four hours after the treatment and go to an experienced injector, you should not experience swelling or bruising. "First I apply an infusion of serums via the Diamond Glow to restore hydration, polish the upper and lower lids, and prepare the under-eye troughs for a dermal enhancement," says Hollander. She then inserts Restylane-L hyaluronic acid gel via a cannula (which means there is only one needle prick) to restore volume loss and lessen shadows. "This gives the appearance instantly of a brighter, rejuvenated, and rested appearance."
Inflammation
Inflammaging is one of the unspoken causes of aging, inflammation is one of the contributing causes of acne, and meanwhile post-treatment skin can often be red and inflamed. The point is, there are a number of reasons why you might seek an in-office treatment to help expedite the healing of the skin.
Red LED/Infrared
"Not only does this technology help to reduce fine lines and wrinkles through light, it offers a general improvement to the skin overall," says Hollander. "The LightStim bed and face panel is extremely relaxing and after your 40-minute treatment, you wake up feeling as if you slept for five hours." She adds that the device helps to reduce inflammation in the body and works on the cell's mitochondria to increase ATP production — essentially, it is as if the light supercharges your skin cells to perform their functions more efficiently by charging their cellular batteries (i.e., mitochondria).
Cryotherapy
"Cryotherapy is incredible for soothing and calming the skin, offsetting inflammation, tightening the skin, and minimizing puffiness," says Darden. Cryotherapy is also known to constrict the pores, promote oxygenation and blood flow, and create glow when performed alone and after treatments. Celebrity esthetician Sarah Ford is partial to the CryoTouch device, which uses topical carboxy therapy for results in five minutes. "For inflammation, the Glacial Glide [device] harnesses an intensely cold tip to settle redness and calm the skin," says Dr. Batra. Each session of the Glacial Glide costs between $100 to $200 and can be tailored to address the degree of inflammation in the skin.
Hyperbaric Oxygen Therapy
Hyperbaric oxygen therapy (HBOT) helps to promote healing by efficiently delivering oxygen to the tissues of the body. Hollander points out that "after 90 minutes of breathing in 98% oxygen while resting peacefully, you are also passively increasing collagen production and delaying the signs of aging."