Celebrity Makeup Artist Nick Barose Fit 4 Red Carpet Jobs Into One Whirlwind Weekend
Courtesy Of Nick Barose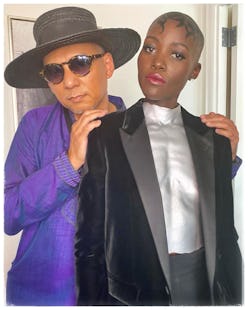 We may receive a portion of sales if you purchase a product through a link in this article.
Iconic beauty moments aren't born without the visionary artists that create them. In Behind The Glam, TZR gives you an inside look into the careers and inspirations of the industry's top artists.
To say that makeup artist Nick Barose is in demand might be a bit of an understatement. Even in the high-flying world of celebrity beauty, New York City-based Barose is — to borrow a phrase — booked and busy, stuffing his schedule with red carpet committments, magazine cover shoots, and luxe ad campaign work. But Barose's past several days could make anyone's head spin. He managed to pack four separate celebrity engagements into one transcontinental weekend, jetting coast-to-coast to get the stars ready for four different red carpet events: Heather Graham at Tribeca Film Festival for a premiere, Ji-Young Yoo at a Tribeca Film Festival party and premiere, Lupita Nyong'o at the Tony Awards, and Shaunette Renée Wilson for a day of Indiana Jones promotional press.
Some would get dizzy even reading through his do-to list, but Barose's long career has made him something of an expert on chaotic calendars and nonstop travel. "It's all about planning and being strategic about it," Barose tells TZR, explaining that a lot of time is often spent making decisions, so he likes to pre-plan much of the look by asking fashion stylists in advance what his clients are set to wear. Then, he can gather his ideas and send them over before everyone hits the road. "But of course, the real magic is always happening in the last 15 minutes because things always evolving, like if all of a sudden the hairstyle or the earrings changed, then it affects the makeup, too," he adds. Backup ideas are important to have ready, Barose says, which is why it's important to remember that inspirations are just that — they're not rigid and shouldn't stress you out.
Client One: Ji-Young Yoo
Many of Barose's clients, like Graham and Nyong'o, have worked with him for ages, which means he already knows what sort of foundation, skin care, and other elements they use and need. But his roster is also full of up-and-coming ingenues, like Yoo and Wilson. "If it's someone new...I also try to do my homework by looking up their work, Instagram, etcetera to get a sense of who they are and so I can try to come up with makeup that fits their personality," he explains. "I work with good actors that are great at what they do so, to me, makeup is self-expression to help them express themselves. It's not one size fits all."
In the case of Yoo's back-to-back Tribeca appearances, Barose put together two starkly different yet totally aesthetically creative looks for the star, one for a Chanel party and one for the premiere of Yoo's new film, Smoking Tigers.
Barose says he used the Chanel Les 4 Ombres Tweed eye palette in variant 2 along with the Chanel Rouge Coco Flash lipstick in shade 84, described by the makeup artist as a soft, fresh sheen that contrast against the eyes. Meanwhile, the eyeshadow palette "allowed me to go dark on the eyes but without being too dark or severe."
Client Two: Lupita Nyong'o
Nyongo's smoky, sultry eye makeup and jewel-toned lips were an instant standout from the Tonys red carpet, but that Sunday was also a stressful one. Barose had the Tonys, Graham's Tribeca premiere, and the last flight of the day out of JFK. "It was also the same day [as the] Puerto Rican Day Parade so the streets were blocked off and cars couldn't get to the hotel. I had to schlep my kit and walk for 15 minutes through the parade on 5th Avenue — it was fun and by some strange miracle, I made it to all the jobs and airport early that day."
For Nyong'o's look, Barose used Lisa Eldridge True Velvet Lipstick in Velvet Myth — "the perfect dark but very wearable vampy shade," he says.
Despite the excitement of so many events, Barose says dealing with ever-changing elements against his carefully planned and jam-packed schedule is among the most challenging aspects of the job. "You hope nothing changes because it would affect everything," he explains. "Like if all the sudden, someone wants to change their call time to later or earlier, then it'd eat into my other jobs and I'd be late." Fortunately, he says he and his agents always communicate with clients about timing. "It's show biz — nothing ever goes as planned, it's never a dull moment, but as long as people are reasonable and respectful [it's fine]. All my clients and their teams are, so that also helps me to juggle."
Client Three: Heather Graham
Next on the docket that Sunday was Graham, whom Barose has worked with for years. Her new movie, Suitable Flesh, premiered at Tribeca and called for a fresh, defined look to play off her lacy white dress. He used the 19/99 Precision Color Pencil all the way around her lashes, an eyeliner he calls incredibly versatile and available in all sorts of fun shades for even more drama. Then, to balance the eyes out, a layer of Eisenberg Baumé Fusion Lipstick in Cardinal. "We love this dark but sheer lip tint — it looks like when red wine stained the lips a bit."
One of his favorite parts of his job, though, is documenting the process and taking pictures alongside his clients with their completed looks at the end. "Especially with people I know really well like Heather and Lupita, we always have fun with the video and the music. It's never just standing there and modeling for the pics, we always have fun, goofing and dancing around and getting fun content. It does set the mood before they walk out to the carpet."
And just like that, Barose is off to the airport to catch the last flight of the day.
Client Four: Shaunette Renée Wilson
Finally, Barose headed to Los Angeles to work with rising star Shaunette Renée Wilson for a day full of press promoting the latest installation in the Indiana Jones franchise. Her look was brilliantly radiant — not shiny, which Barose mitigated by using the Mally Beauty Face Defender, a primer-powder hybrid that gives a poreless, satin effect. Next, was bringing some glow back in with the Rare Beauty Positive Light Liquid Luminizor. "I love this liquid highlighter formula so much. It looks fresh and comes in so many inclusive shades for all my clients. On Shaunette and Lupita, I used the shade Reflect." After smoking out her eyes with the Armani Beauty Eye Tint in Ebony, a liquid eyeshadow that's more mess-free than a powder alternative, she's ready to go.
Even through a whirlwind of a weekend, Barose managed to create distinct looks that celebrated his clients' personality and work all while honoring the event's aesthetic — and staying upbeat the entire time. Even if your own calendar isn't quite as crammed, Barose's travel essentials can help streamline any schedule. Shop his must-haves below.