Love A Minimalist Beauty Look? Time To Follow These 10 Influencers
@sambinaa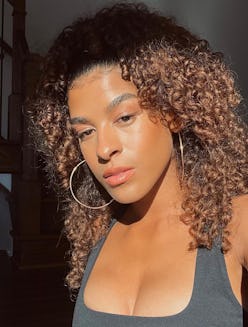 Makeup is incredibly versatile. Some people love a full-face beat with a glittery cut-crease and full lashes while others opt for a natural dewy base and light mascara. While full glam is always a fun look, sometimes you want to go more minimal — that certainly seems to be a trending beauty look for the fall 2022 season. And if you're on the hunt for new inspiration, the top minimalist makeup influencers can provide it in spades.
If you scour the beauty accounts on your TikTok or Instagram feed, you'll be sure to find that some of your favorite beauty influencers are getting rid of the matte foundations and heavier powders, for a softer look that comprises dewy foundations, cream blushes and highlights, and soft lashes. Evidence of this shift has also been see on the runways as well. During the Max Mara Fall 2022 collection, the models wore barely there makeup looks that reflected the neutral tones of the clothes. However, minimal doesn't always mean the absence of color and shape, especially when it comes to makeup.
Celebs trendsetters like Hailey Bieber and Bella Hadid are definitely the blueprint for the minimalist makeup look this season. They can both be seen sporting a super natural skin base with neutral tones and light glossy lips, providing all the glazed donut inspo you need.
If you're looking to get a feel for how minimalist makeup wearers achieve the look, here are 10 beauty influencers to follow right now.
Interested in joining the minimalist make-up lifestyle? These influencers have got you covered!