MARA's Latest Launch Solves Every Issue You've Ever Had With Body Oil
The perfect formula doesn't exi—
Courtesy Of MARA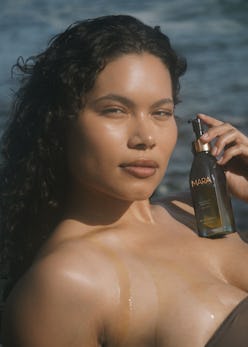 Trying to sell a friend on body oil can feel like an evangelical mission. You know slicking some on immediately after an "everything shower" is the key to dolphin-smooth skin and lasting hydration — but for the woefully unconverted, it's a slippery mess that makes pants an impossibility. Leave it to the mind behind MARA to not only totally revitalize the category with some pretty powerful actives, but make the whole application experience more user-friendly than ever. MARA's Sea Sculpt Body Oil rapidly sinks into skin upon contact, letting all its straight-from-the-sea ingredients get right to work beneath the surface — which means you can get dressed right away, too.
As it turns out, founder and CEO Allison McNamara has been plotting on this new launch before MARA was even officially born. Because so much of the larger line centers around the power of oils overall, a body-specific one always made sense (and fans have been begging for it since day one). Built around a trio of distinct actives and three particularly key hydrating agents, the oil is designed to improve the look of infirm skin and cellulite. And, like all MARA products, the star ingredient is marine-derived, made from actual plankton.
McNamara tells TZR that she first got really into body care when she and her wife decided to have a beach destination wedding. "I wanted to look and feel my best for my wedding day and actively started researching different at-home modalities and products to improve the look of cellulite, stimulate circulation and help with water retention," she explains. On her journey for the perfect products for the big day, McNamara learned that most body products aren't infused with actives — meaning they don't do a lot to correct issues on a deeper level. "So, the concept for Sea Sculpt was born–a super hydrating body oil with three actives I specifically selected to improve look of cellulite, elasticity, firmness, and texture."
Along with the firming, skin barrier-strengthening power of plankton, a slew of superfood plant oils (including squalane, moringa, and buruti) provide even more moisture. Together, they're fast-absorbing and don't leave behind any of that dreaded oily residue — hence why McNamara dubbed the medium- to heavy-weight formula pants-proof.
Because MARA is known for its excellent oils, McNamara says the development process was an organic one. And in fact, the most challenging part to nail was the right scent. "The olfactory experience is such an important part of our process, and I really wanted to have a woodsy citrus scent reminiscent of our other products but not exact," she explains. "I wanted Sea Sculpt to smell like a cousin rather than a twin." What she eventually settled on is a fresh, enveloping fusion of bergamot, cedarwood, and grapefruit that remind McNamara of Big Sur at sunset.
If there's one person's body care routine to really trust, it's McNamara — she's done tons of legwork. To truly maximize the power of Sea Sculpt, she tells TZR that she first does an all-over dry brushing before the shower, then works the body oil by region while her skin is still damp from bathing. "[I like] applying it in circular motions and then using the MARA lymphatic drainage tool in upward motions to really penetrate the actives into my skin and improve circulation," she says, adding that loves to slick some extra her legs or décolletage before a night out for even more radiance. "Extra bonus? Add in a little cream highlighter!"
The MARA Sea Sculpt Body Oil is $68, launching August 15 on themarabeauty.com and sephora.com. The MARA Sea Sculpt Tool is exclusively available at themarabeauty.com, launching August 15.