The New Lancôme x Louvre Collection Was Carefully Curated To Inspire & Awe
@lancome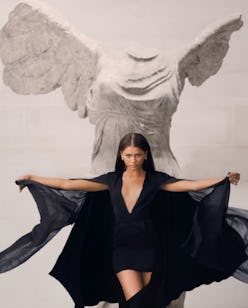 Lancôme and the Louvre — it doesn't get much more quintessentially French or downright legendary than these two boldface names. Since 1935, the celebrity-beloved beauty brand has been the go-to source for anyone looking to capture that effortless glamorous Parisienne look. Meanwhile, the 18th-century museum enjoys a reputation as the world's most famous collection of art and historical artifacts. This September, the two iconic institutions will team up for one singular, instantly-iconic moment that feels both totally innovative and completely natural. The Lancôme x Louvre Collection is unlike any limited-edition drop you've seen before. A thoughtfully designed assemblage of lipsticks, eyeshadows, and one standout skin treatment, everything about the line is carefully curated to reflect the spirit of both the museum and the brand.
Specifically, the new collection hones in on nine distinct, notable statues of female figures housed in The Louvre: the Venus de Milo, the Victory of Samothrace, Corine, Diane de Gabies, the Nymph with the Scorpion, Nymph Echo, Hygeia, Hermaphrodite, and Venus de'Arles. Each "muse" was chosen for her distinct story and history, all emblematic of femininity and beauty in their own ways. The statues are reflected in everything from the cosmetic packaging to shade names and even the interpretive commercials and photoshoots in which modern ambassadors — including Zendaya and Amanda Seyfried — embody their spirits.
Both colorful and understated, the actual makeup and skin care included in the Lancôme x Louvre line encourage new works of art right there at your vanity. The collection's eyeshadow palette is an homage to the sculpture of Greek poetess Corine, found in the Louvre's Richelieu wing. Celebrated makeup artist Lisa Eldridge chose the colors and finishes in the four-shade compact, all inspired by the gallery's natural lighting and the way it illuminates the statues.
Lancôme's best-selling L'Absolu Rouge Drama Matte Lipstick gets a 2nd century makeover with four new shades of pinks and reds named for and inspired by sculptures. The cloudy, gold-trimmed case and engraved lipstick bullets are collector's items in their own right, designed to look like the stone-carved faces they represent. And so many great works of art start with the ideal canvas, the brand is also releasing a special edition of the cult-favorite Advanced Génifique Serum, its luxe bottle created in homage to Greek goddess of health Hygeia and her sculptural counterpart in the Louvre.
In a press release, the museum's president-director, Laurence de Cars, describes this collaboration as a dialogue between cultures, highlighting the beauties who transcend time and space to continue to inspire new works of art. Equipped with these exciting products, there's no limit to what you can create.
The Lancôme x Louvre collection is available September 1 at Lancome-Usa.com and Lancôme counters at Macy's, Dillard's, Nordstrom, and Bloomingdales.