How To Properly Use A Hair Dryer Brush For A Salon-Quality Blowout At Home
@naviagutta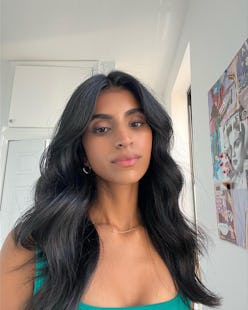 We may receive a portion of sales if you purchase a product through a link in this article.
Creating a salon-quality hairstyle at home can be tricky. From finding the right cocktail of products to the best tools, the process can quickly become overwhelming. While every good look begins with an arsenal of wash-day essentials, knowing how to use a hair dryer brush can make or break your final results. For starters, the combination of detangling bristles and a precise blast of heat can dramatically decrease your blow-drying time. This also allows for maximum control and even styling. As if that's not enough, the multi-purpose tool can be used to create bouncy blowouts or smooth and sleek hair.
But like any hair tool, it requires a learning curve to be used correctly. "There are many benefits to hair dryer brushes, like adding volume and quickly touching up a style in between washes, but if you're not using them properly, damage can occur," says celebrity hairstylist and T3 stylist ambassador Bridget Brager. Though TikTok has delivered several tutorials and viral reviews, learning the right way to wield these magical brushes can be the difference between a good and bad hair day.
Ahead, TZR spoke with two stylists to break down the dos and don'ts of this popular tool, including tips for that fresh-from-the-salon look, no matter your hair type.
The Benefits Of Hair Dryer Brushes
When it to comes blow drying your hair, you usually have to determine the right angles, brush type, and heat setting that will work for your texture. But a hair dryer brush cuts out the middleman by combining all those elements into one handy tool. "With these combination stylers you don't have to worry about hand-eye coordination or the aches and pains that come blowdrying," says celebrity hairstylist and House of Frieda stylist Laura Polko. As she explains, many tools come with attachments that make the overall process easier for your shoulders, arms, and neck.
Another big benefit of these tools is that they can save you a lot of time. Regardless of your texture, blow drying can be a lengthy process. "A hair dryer brush allows for better control and faster styling time, says Brager. She continues noting that having the brush connected to the heat sources also helps flatten the hair for a shiny finish. "The grip of the bristles usually provides the perfect amount of tension, so you can easily smooth the strands or add volume depending on your style preference," she says.
Who Should Use A Hair Dryer Brush?
According to Brager, all hair types can reap the benefits of these brushes. "Whether you're aiming to reduce frizz, keep flyaways at bay, or give your roots a bit of lift, it can be an advantageous item to have on hand," she says. You've probably noticed a few videos on your FYP showcasing these brushes being used on different textures. But as Brager tells TZR, while they can be great for natural hair, it's important to ensure you're using the right tool for your curl pattern. "If you have curls that are prone to frizz, opt for a blow dryer brush with a mixture of short condensed bristles. This will provide a good grip for tight coils and deliver a smooth and frizz-free finish."
For finer textures, she notes that a brush containing a mixture of short and long bristles will be most effective. "The varying lengths help to stretch the hair around the head of the brush and will add a touch of volume and natural fullness," she says. But most importantly, the stylist explains that it will give you a controlled grip that is difficult to have with fine hair.
How To Use A Hair Dryer Brush
In order to create your signature style, you need to first know how to use the tool. Before you begin, Brager recommends prepping your hair with a detangler to add some slip to your strands and ensure the brush will easily glide through them. You want the hair damp but not soaking wet, so be sure to find the happy medium. Once evenly worked through the strands, part the hair into sections sized to match the head of the brush. "Smaller sections allow fewer passes with your tool and result in less mechanical damage and a quicker, more precise blowout," she says.
Next, place the brush at the roots and glide the brush outward. Tension is a big reason why these stylers work so well. That said, it's important to lean into the natural tightness of the tool as you move it away from your scalp to distribute the heat and smooth the hair. "Never blow up the hair shaft as it opens the cuticle and causes damage to the hair," Brager says. The final step, whether opting for full-on volume style or a super sleek, is adding a burst of cool air. "Using the cool shot button helps ensure the style you created is locked in," she says.
There's a feeling of satisfaction that comes with being your own stylist. Not only will it save you some coins, but it also gives you a better understanding of your hair. Luckily, these convenient and user-friendly tools are here to help.
Shop Hair Dryer Brush Essentials
Detangling Products
Hair Dryer Brushes