Hermès' First Eye Makeup Collection Is All About Self-Expression
The palettes are (almost) too pretty to use.
Nikki McClarron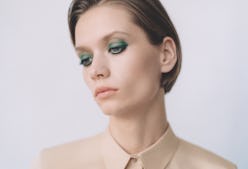 We may receive a portion of sales if you purchase a product through a link in this article.
If the eyes truly are the window to the soul, they should be dressed accordingly. Hermès' first eye makeup collection, Le Regard, answers this call. The range is built around the idea that the eyes can be more expressive than words, encouraging the makeup-wearer to communicate their feelings through color. Albeit, with the level of luxury expected from the French fashion house.
While Le Regard features rich, vivid hues such cobalt, plum, and tangerine, they're refined, thanks to the formulas' smooth silky textures. "The Hèrmes woman observes the world with an active gaze. She is, above all, a woman who observes," says the house's artistic director, Pierre-Alexis Dumas, in a brand statement. Gregoris Pyrpylis, makeup artist and creative director for Hermès Beauty, adds "A look is a dance. It is both instant and a place of truth."
The lineup includes six refillable Ombres d'Hermès eyeshadow quartets with shades that range from neutral to bold. At a press event in Palm Springs, Pyrpylis stated that the colors in each quartet were curated to be worn alone or artfully blended together for a custom look reflective of the wearer's personal style. The finishes of the shadows were inspired by fabrics associated with the house, such as silk. Designed by Pierre Hardy, the geometric pans within the palettes are inspired by the Bauhaus art movement, while the white and gold disc is in line with the details on the brand's lipsticks and nail polish bottles.
Complementing the eyeshadow palettes are the six Trait d'Hermès mascaras inspired by the house's classic colors. They include classic black and brown, along with four jewel tones: indigo, violet, emerald, and oxblood. The formula is comprised of 97% naturally-derived ingredients (including nourishing shea butter and moringa butter, and lengthening millet seed extract) so it's gentle for sensitive eyes, while the slim wand is made from plant fibers and designed to coat every lash.
Finally, the tools you use to apply eye makeup are equally important to the products themselves. As such, Hermès has designed four Les Pinceaux Hermès brushes designed with lacquered wood, and the Le Courbe-Cils Eyeslash Curler to prep lashes for mascara.
While the Le Regard products are almost too beautiful to use (almost being the operative word), the stunning, wearable shades make them too irresistible not to dive in.
Shop Hermès Le Regard Collection