Yes, You Can & Should Still Wear A Smoky Eye With Crow's Feet
Makeup artists share their best over-40 eye makeup tips.
Sergey Filimonov/Stocksy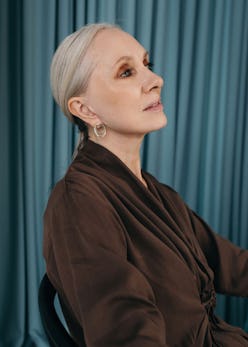 We may receive a portion of sales if you purchase a product through a link in this article.
Does the idea of "mature" or "age-appropriate" makeup make you roll your eyes, but you're unsure how to apply eyeshadow and liner without it looking too harsh or messy? First thing: Forget the arbitrary rule that eye makeup over 40 should only consist of minimalist neutrals. "Makeup in your 40s does not need to be boring and can still be fun, playful, and cool — with a few tweaks of course," confirms celebrity makeup artist Gita Bass.
Next, rethink your approach. Eye makeup will sit differently on your skin because the anatomy and texture of your skin change as you age. "Women in their 40s may start to see lines settling around the eye area and volume loss resulting in the change of the surrounding bone structure. Some might notice that the eyes look a little smaller than before," says Carolina Dali, a celebrity makeup artist who works with Kate Hudson. "We want to concentrate on lifting and brightening at this age, so formulas and techniques definitely need an update," Bass adds. "Some of the trendier runway looks focus on looking cool and edgy rather than young and fresh, so it's important to combine the two."
The right prep and a few new pro techniques will help you troubleshoot any skin-related challenges and still get all of the eye-brightening and defining benefits you want. Read on for top makeup artists' tips on how to nail the hottest eye makeup trends at any age.
Start With Skin Prep
First things first: Before applying any eye makeup look, care for the delicate skin around your eyes. "Hydration is key for the skin around the eyes, so a good eye cream that absorbs well and creates a smooth canvas for makeup is a must," Bass says. Prep eyes with a lightweight, hydrating formula, and save the rich, heavy cream or eye mask for bedtime. According to Dali, overly heavy or oily moisturizers can disturb makeup and thus, shorten its wear.
LA-based makeup artist Jamie Greenberg likes to layer an eye patch over eye cream and leave it on to help trap hydration and de-puff the undereye area while applying eye makeup. "I always do the eyes first so I can clean up any fallout before I apply concealer," Greenberg adds.
Prime Your Lids
"At this age, a lot of the time the top of the eye is dry but the crease has excess skin, so it can get a little oily," Greenberg says. Eye primer mitigates the oiliness and locks your makeup in place — a must if you want to embrace trendy looks. "The more makeup you wear on the eye, the more likely it is to run, particularly as we age," Bass says. Primer also brightens discoloration and creates a smooth canvas for makeup to glide over any fine lines.
Find Your Eye Crease
As you get older, the definition of a crease tends to disappear, so you may need to lightly define it before playing with fun looks and colors. Use neutral eyeshadows to create definition and shape the eye, NYC-based makeup artist Todd Harris suggests. "Take a matte shadow that's a few shades darker than your skin tone and lightly apply to your natural visible crease," he says. Can't find your crease? "Look straight in the mirror and don't raise your eyebrows. Remember your resting face is what people see," Harris says.
How To Create A Cat Eye
To give your eyes an upward lift, adjust the shape and length of your feline flick. "Draw the tail a little shorter and draw the line with your eyes open, looking straight ahead rather than closed, so you can see the end result," Bass says. Liquid liner is the gold standard but if you find it too hard to control, you can use an angled brush dipped in eyeshadow or a pencil liner to make the shape. Bass suggests keeping cotton swabs and micellar water on hand to fix as you go, and applying a tiny swipe of concealer underneath the line will help with lift and precision. "When you're happy with the shape, apply a gel liner with a small brush, which tends to look softer on older skin," she says.
How To Do A Smoky Eye
The first trick to achieving the smudgy, diffused shadow look is using a softer color palette. "People don't realize that a smoky eye doesn't always have to be black or dark brown. It can be any color that starts darkest at the lash line and gets lighter up the lid," Greenberg says. Consider warm browns, pinks, and jewel tones. "Also, concentrate the color close to the lash line, rather than the entire lid, which can look harsh on a more mature eye," Bass says. "If you have really small eyes, place more of the dark shade on the outside corner of the eye with a small blending brush — the darkness there can also minimize texture and wrinkles," Greenberg adds.
How To Wear Shimmery Eyeshadow
Shimmer can be worn at any age; look for superfine textures with a satin, not glittery finish, to brighten your lids. "I find a more targeted placement of the shimmer is most flattering on mature eyes," Dali says. "With a small eyeshadow brush or with your fingertip, concentrate the shimmer on the inner corners of the eyes, on the center of the lid, and close to the lash line, as well as a touch on the brow bone." You can also start with a matte eyeshadow and use the shimmer as an accent on the center of the lid.
How To Wear Bold Color On The Eyes
"Don't be scared to have fun with color, but think 'pop of color' rather than an entire lid," Bass says, "To add color, try applying a neutral palette of makeup and add a colored liner close to the upper lash line for a fun and unexpected result." You can make a bright blue or purple liner a bit thicker than your usual black eyeliner, but you don't want to do the entire lid because it may accentuate wrinkles, Greenberg says. "If you want the color to be a little more electrifying, start with the cream liner and then go over it with a powder shadow."
Boost Your Brows & Lashes
Your eye makeup isn't done until you curl your lashes and apply a volumizing mascara. "A groomed brow is also super important when pulling off a strong eye look, as it helps to balance out the face and lift your eye in a more natural way — just make sure to keep the shade subtle so your brows aren't competing with your eye makeup," says Bass.
Balance Your Base Makeup
To really nail bold eye makeup, the rest of your look needs to be balanced. Bass says Andie MacDowell is an example of a celebrity who executes this perfectly. "She still focuses on gorgeous skin, brows, and lashes but often adds a pop of color, some crystals, or a cool liner for a fun edge that only adds to her beauty," the makeup artist shares. For a stronger eye, using an undereye concealer to cancel any shadows is a must to keep the eyes looking bright. For your base, a hydrating foundation that isn't too matte or dewy won't settle into fine lines.
Add A Subtle Contour & Highlight
Last but not least, Harris recommends light contour to bring back shape to cheekbones in a natural way. "Remember the face loses definition as we age also, if you have a sculpted eye, the rest of your makeup needs to look cohesive," he says. Stay away from overly glittery face highlighter, as it tends to emphasize skin texture. "Cream blush is your friend. Apply it on the tops of the cheekbones blending up and into the hairline for a lifting effect. Don't forget to set the face with a light powder to keep everything in place," Harris says.