A Hair Straightener Can Make Or Break Your Look
Here's how to choose the right one.
@iamkelianne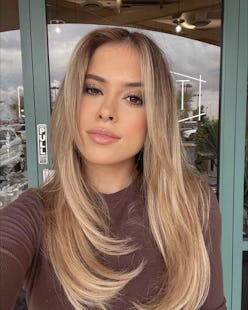 We may receive a portion of sales if you purchase a product through a link in this article.
A flat iron can be a useful tool in your hair care routine. Whether you're aiming for a silky smooth finish or lightly tousled waves, it offers unmatched results. However, along with a gorgeous hairstyle that you can achieve at home, there's also the risk of heat damage. To combat this side effect, there are a number of protective products designed to safeguard your strands. But in the long run, selecting the right hair straightener for your hair type will help you avoid getting split ends and experiencing breakage.
"One of the first clues you've found a keeper will be the digital display that showcases the temperature," says April Kayganich, Hairstory network stylist. She explains that many flat irons may allow you to adjust the amount of heat emitted, but knowing the exact number is just as important. "Certain hair types are more sensitive to high temperatures making them more prone to damage with use," she says.
Even if you only dust off your straighter once in a while, having a reliable tool that works with your hair instead of against it will go a long way. To get the low down on finding a flat iron that's right for you, TZR tapped two top hairstylists for advice. Below, they share their shopping and maintenance tips, along with the best option for each hair type.
Does Plate Material Matter?
Whether you're shopping online or in a store, the question of plate material is bound to come up. Given that it's the part of the flat iron that emits heat and directly touches your hair, it's good to have an understanding of the different types. Most often the tool is made with either ceramic or titanium plates, and as Kayganich notes, the material does make a difference. "A general rule of thumb I stick by is titanium for natural textures and ceramic for damaged or thin hair," she says.
Titanium is often a top choice for professionals as it heats up quickly and delivers a supremely smooth finish. These kinds of irons straighten with high temperatures that are applied directly to the surface of the hair shaft — meaning they are ideal for thicker textures and deep curl patterns. On the other hand, ceramic plates offer a gentler approach that transmits heat through ions and essentially straightens hair from the inside out.
Best Hair Straightener For Natural Hair
When going from natural curls to straight locks, you're going to need high heat to relax the curl. That said, an iron with titanium plates is going to give the best results. According to Kayganich, this material allows for a smoother pass on the hair, which is ideal for getting an even finish. "For natural textures, ceramic irons can give too much resistance that doesn't give a completely polished appearance," she says. In a similar notion, Annagjid Kee Taylor, celebrity hairstylist, tells TZR that titanium will also transfer heat instantly so there's no need for several passes or extra pressure.
Best Hair Straightener For Thick Hair
Most people with thick hair can attest to having to go over the same section multiple times to smooth their strands. This is often the biggest threat of damage with this texture. While you may not be using the iron to straighten coils or curls, you still want to cut through frizz for a sleek look. "When you keep having to use the flat iron repeatedly on the same section, you will inevitably dry the hair out and cause it to be mechanically damaged," says Kayganich. Instead of cranking up the temperature, she suggests using an iron that has wide titanium plates, like the GHD Max Styler, on thin sections of hair. By covering more surface area in one sweep you'll be able to decrease bulkiness in half the time.
Best Hair Straightener For Curly Hair‌
Curly hair doesn't necessarily mean thick. For those with naturally loose curls or waves, Taylor notes that a straightener that works effectively with the least amount of damage is most ideal. "Frizz may be the main concern with this hair type so you want an iron that will also work quickly to keep flyaways put," she says. Kayganich also notes that you won't need to use the highest heat setting to get results. "Loose curls are more prone to breakage so keeping the temperature between 350 and 360 will help keep the damage to a minimum." Additionally she adds that a heat protectant, like Hairstory's Dressed Up, ensures the final look is smooth.
Best Hair Straightener For Fine Hair
Fine hair can be a bit fragile so you want to take precaution with how much heat the tool applies and how often it's used. "For this hair type, a ceramic iron with heat personalization, like T3's Smooth ID Smart Straightening & Styling Iron works best," says Taylor. As she explains this will be less damaging and still give you a straightened look. Another important factor to consider is size. Taylor tells TZR that using a 1 3/4" - 2" iron on medium to long hair will also ensure that you're not singeing your strands in the process. It also allows you to fully pass through the hair one time so you won't be inflicting excess harm.
Best Hair Straightener For Damaged Hair
Avoiding hot tools when your hair is damaged is a no-brainer, but it doesn't stop most people from using them, especially for special occasions. You can still use a flat iron, but you really need to be careful with your choice. "Frizz is also an increased issue with damaged hair," says Kayganich. With that in mind, she recommends, a low-heat option that will reduce the risk and impart shine. "If you're going to straighten your hair at home, you need to have a high-quality tool that will decrease your chance for further damaging your strands," she adds. To her clients she recommends the Ceramic + Ionic iron by Olivia Garden. "The 'negatively' charged ions meet the positively charged bonds in the hair so you will get little to no frizz," she says.
Flat Iron Maintenance & Upkeep
You might be tempted to throw your straightener back in the bin under the sink once you've finished using it, but Kayganich tells TZR the it needs to be cleaned first. "When the tool is still warm, use a microfiber towel to wipe it down and remove any excess product," she says. Regardless of your hair type, this simple step will ensure that you're not starting with loads of grease that can increase how your hair holds heat. For the best results, she suggests using a little alcohol once the iron has fully cooled down to properly dislodge buildup that may have occurred.