I Swear By These Makeup Removers For Melting Stubborn Mascara & Dark Lipstick
Courtesy of Jessica Fields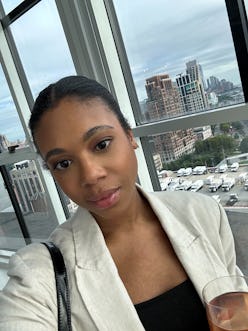 We may receive a portion of sales if you purchase a product through a link in this article.
As a beauty writer, I often credit my radiant skin to my job. From testing innovative treatments to the sea of top-tier products in my medicine cabinet, these perks offer solutions to my main skin concerns like uneven tone and texture. But whenever someone approaches me for advice on bettering their routine, I always have the same question: "Are you taking off your makeup before washing your face at night? For years, I attributed my skin's appearance to this simple step that often gets overlooked. While it began as a straightforward idea of not wanting to wake up with a pillow covered in foundation and lipstick, I quickly discovered good makeup removers have so much more to offer.
For starters, makeup wipes alone don't always get the job done. Even after scrubbing my eyes at night, I'd still notice bits of mascara clinging to my lashes in the morning. So, I made the transition to cleansing oils and balms that utilize the "like dissolves like" principle to instantly melt away makeup. With just a small amount and a quick massage, I learned I could effectively break down a full-beat face in no time. As I got older, however, I began to take extra care of the area around my eyes and started incorporating removers specifically designed for eyeshadow, eyeliner, and mascara. I've come a long way since those early days of pre-soaked towelettes, and my routine now features a few different items to effectively clean my face.
Ahead, the top products and tools I use to thoroughly remove my makeup before bed.