Glossier's Signature Product Just Got The Makeover Fans Have Been Waiting For
Courtesy Of Glossier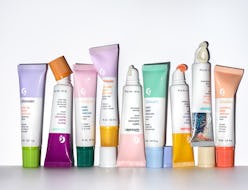 We may receive a portion of sales if you purchase a product through a link in this article.
It's the end of one chapter, but the dawn of an entirely new — and much more sustainable — era over at Glossier. For many fans of the millennial- and Gen Z-beloved Glossier, the company's original Balm Dotcom lip treatment was their original introduction to the brand and its skin-first approach to beauty. Today, the multipurpose balm you know is gone for good, but to make way for an upgraded version that incorporates all the elements fans have been clamoring for since the beginning. Glossier's Balm Dotcom reformulation, available today, reflects the company's commitment to environmental consciousness with a series of tweaks, the most major of which is the elimination of petrolatum as a central ingredient.
According to Kleo Mack, SVP of Global Marketing at Glossier, this eco-friendly switch-up is a long time coming. Derived directly from non-renewable fossil fuel energy source petroleum, that petrolatum will be replaced by vegetable-based castor jelly. "When reformulating, I think it's essential to take a critical look at the ingredients you're using and ask yourself if this is really the best possible formula for the product, for the community, and for the earth," Mack tells TZR. "We would only change an ingredient if we could replace it with something that we wholeheartedly believe is equal to, or, ideally, better quality than the original formula."
That certainly applies to the Balm Dotcom ingredient shift. The new castor jelly inclusion is, just like petrolatum, a common cosmetic ingredient that looks and feels quite similar, but with a less-greasy finish and a sustainable production model.
Along with the castor jelly substitution, the brand is also ditching ingredients like natural beeswax and lanolin, swapping them out for vegetable-borne alternatives. Notably, though, this doesn't really alter the effects or texture of the balm — it still has that thick, buttery consistency that locks in moisture with a rich dose of vitamin E for extra conditioning.
It's not just the inner workings of the balm that's getting a major makeover, too. The new Balm Dotcom comes equipped with a tapered tip for hands-free application with an ergonomic cap to keep everything fresh, a move Mack says was directly inspired by community feedback. "We saw a spike in conversation around the applicator during the pandemic, so it felt like the right moment to relook at Balm Dotcom in its entirety," she shares. "Our community has been on this journey with us, sharing their experiences and vocalizing their love of certain flavors, which has helped guide us along the way."
Nine flavors feature in the new and improved Glossier lineup with the discontinuation of Cherry. In its place, fan-favorite flavor Wild Fig becomes a permanent addition to the roster. Macks says the Balm Dotcom reimagining is just another part of Glossier's journey and commitment to community feedback, with the door open for new reformulations and upgrades to come. As one of Glossier's four original offerings launched back in 2014, it only makes sense to start with a product that helped build the brand's (nearly $2 billion-valuation) name.
Shop the brand-new Balm Dotcom here.