Glossier's New Natural Deodorant Passed Every Single One Of My Sniff Tests
It even held up during a spin class.
Courtesy of Glossier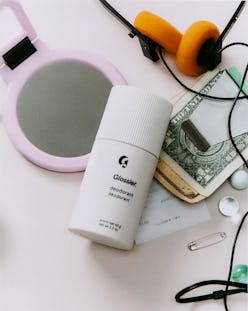 We may receive a portion of sales if you purchase a product through a link in this article.
In our series Trial Run, TZR editors and writers put the buzziest new beauty products to the test and share their honest reviews. This week, beauty editor Erin Lukas is testing the buzzy Glossier Deodorant.
The journey to finding the right natural deodorant can be a smelly one. Typically, it takes some trial and error to find a formula that holds its own on humid summer days, intense group workout classes, or any other sweat-inducing life event gets thrown at you. As someone who made the switch from antiperspirant to natural deodorant a decade ago, I've tried countless formulas and a number of them have fell short. And on that given day, I sincerely hoped my coworkers or the person sitting next to me on the subway couldn't smell my BO.
The silver lining: Natural deodorant has gone from a niche product category to an in-demand one in recent years. There are more options now than ever, including sophisticated formulas that offer nourishing benefits and odor control care of skin care ingredients you use on your face. And this includes Glossier's new aluminum-free deodorant.
So upon learning that the beloved beauty startup was launching a natural deodorant in a handful of its products signature scents — including the cult-favorite You fragrance — I was curious how the formula would stack up against my current go-to. Ahead, my honest thoughts and experience trying Glossier's Deodorant.
Fast Facts
Price: $22
Size: 65g
Clean/Cruelty-Free: Yes
Best For: Those who want an aluminum-free deodorant that doesn't irritate the skin
Ingredient Highlights: Coconut oil, potato starch, magnesium hydroxide, superfruit elderberry extract,
What We Like: Lightweight, goes on clear, doesn't need to be reapplied mid-day
What We Don't Like: Nothing!
Rating: 5/5
How TZR Keeps Score: 1/5: Making a return; 2/5: Keeping as a backup; 3/5: Finishing to the last drop; 4/5: Recommending to my group texts; 5/5: Already on auto-replenish
The Formula & Packaging
Glossier's deodorant has a coconut oil base and is infused with superfruit elderberry extract to further nourish skin, potato starch to help absorb excess moisture, and magnesium hydroxide to help adjust the underarm's pH level and absorb moisture to minimize dreaded sweat stains. In addition to being aluminum-free, the formula doesn't contain baking soda or AHAs — two potentially irritating ingredients commonly used in natural deodorants. The product comes in three scents: Sandstone (notes of sandalwood, clary sage, and fig leaf), Glossier You (notes of pink pepper, ambrox, iris, and ambrette), and Orange Blossom Neroli (notes of pear, mandarin, and cypress). There's also an unscented option.
The packaging of Glossier Deodorant is what really makes it a noteworthy launch. The white cylinder case is refillable, so when you hit the bottom of the deodorant stick, simply pop it out and put a new one in. Both pieces are recyclable, but it's best to check with your local program before tossing them into your blue bin.
What I Look For In A Natural Deodorant
What makes the switch to natural deodorant so tumultuous is the adjustment period your body undergoes as it gets used to sweating again. Which brings me to the main difference between antiperspirants and natural deodorants: the former contains aluminum that helps prevent sweating all together, while the latter is aluminum-free and prevents odor caused by sweat.
So many give up before their bodies fully adjust because they can't get past the sweat and smell (completely understandable). Glossier says it can take up to four weeks for the armpits to adjust to an aluminum-free formula, and that drinking lots of water can help ease the transition.
All this to say, as a veteran natural deodorant user, I want a formula that's lightweight, non-greasy, doesn't stain my clothes, doesn't contain baking soda because my skin doesn't jive with it, and most importantly, keeps me smelling fresh all day long without needing to reapply it.
My Experience & Results
Reusable packaging aside, what made me most excited to try Glossier's Deodorant is that it comes in the brands' cult-favorite scents. So I chose Orange Blossom Neroli, the same fruity, energizing scent I love from the brand's Body Hero collection.
And the scent boost is exactly what I needed as I powered through a work week stacked with work-related events, get-togethers with friends, and a few stress-reducing workouts. Whether my day consisted of just commuting to and from the office (which can get sweaty in the winter wearing so many layers), or an end-of-day reformer Pilates class, my pits always felt relatively dry and I didn't sweat more or less than I typically would.
Because I take natural deodorant testing very seriously, I (discreetly!) did sniff tests mid-day and end of day throughout my week-long trial period. I'm happy to report I smelled like a hint of Orange Blossom Neroli every single time. However, the real test came over the weekend when a friend coerced me into an hour-long SoulCycle class with a notoriously hard instructor. I came out of the studio dripping in sweat, but I surprisingly did not smell despite looking like I did.
Additionally, I noticed that my armpits have been a lot smoother since using this deodorant. And while the brand doesn't promise the formula will minimize razor bumps, I chalk this benefit up to its nourishing ingredients.
Glossier's Deodorant at home on my vanity. Courtesy of Erin Lukas
A swatch of Glossier's transparent deodorant. Courtesy of Erin Lukas
Is Glossier's Deodorant Worth The Hype?
As someone who went through a lot of stinky days before landing on a natural deodorant that always keeps me fresh, I was skeptical another formula would ever win me over. However, Glossier's deodorant has exceeded my expectations. Not only does it keep odor under control, the scents feel grown-up and subtle, and the thoughtful ingredients provide bonus skin care benefits. The bottom line? For anyone who's been toying with the idea of switching to natural deodorant, Glossier will spare you from all of the trial and error.