This Under-The-Radar Plant-Based Ingredient Tightens & Smooths Skin
TZR/Shutterstock/The Body Shop/Extra Virgin Skin/Rhodes Skincare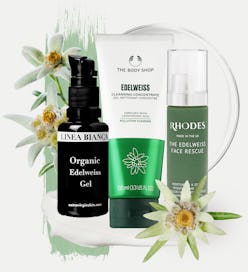 We may receive a portion of sales if you purchase a product through a link in this article.
With new products, brands, and categories popping up every day, beauty can be a bit overwhelming. Back to Basics is our rudimentary beauty series that serves as your crash course on the science behind some of the best formulations in the game. This week, we're taking a look at edelweiss for your skin.
As a skin care enthusiast, you probably take pride in being up-to-date with the latest trends and buzzy ingredients. From TikTok's viral routines to the vast group of retinoids available, there's certainly a lot to keep up with. But there's also beauty in the unknown, especially when it comes to plant-derived ingredients. Recently, edelweiss, a rare and protected mountain flower, has been making waves. Plant-powered products and botanical extracts are nothing new, but the benefits of edelweiss for the skin are as unique the herb itself. For starters, it's loaded with antioxidants and has medicinal properties that can calm and soothe stressed complexions.
Found in the Alps and the Himalayan mountains, edelweiss grows in one of the most extreme habitats on earth. The harsh weather conditions, rocky landscape, and high altitude would make a difficult home for any species, but these special flowers are equipped to handle it all thanks to their natural ability to protect, nurture, and restore. These properties are also what make it great for your skin.
Though the plant is still rather rare, it's started popping up in several different products. Ahead, TZR speaks with two skin experts to learn more about the benefits of edelweiss, who can use it, and the best ways to incorporate it into your routine.
What Are The Skin Care Benefits Of Edelweiss?
Edelweiss contains antioxidants such as flavonoids and polyphenols, which provide numerous potential benefits for the skin, explains Dr. Margarita Lolis, M.D., board-certified dermatologist and Mohs surgeon at the Skin Laser & Surgery Specials of New York & New Jersey. These chemicals shield the plant from the stressors of its intense environment, like harsh winds and excessive sun exposure. But as Dr. Lolis notes, those elements can also protect the skin from free radical damage caused by UV rays and environmental pollutants. "This can help slow the aging process and reduce the appearance of fine lines and wrinkles," she says.
While its hefty dose of antioxidants is impressive, edelweiss is also known for containing a rare chemical compound called leontopodic acid. In fact, recent research has shown it has several anti-aging properties built right in. A 2020 scientific study found that when leontopodic acid is applied topically, it improves elasticity, thickness, and density. Furthermore, it can help strengthen the skin's barrier, making it more resilient to harmful external agents.
Along with its chemical components, Dr. Lolis tells TZR that edelweiss extract can help retain moisture in the skin, contributing to a more supple, hydrated, and youthful-looking complexion. There's even emerging evidence suggesting that edelweiss may aid in wound-healing thanks to its naturally high anti-inflammatory and antimicrobial properties, she adds.
Who Should Use Edelweiss & What Are Its Potential Side Effects?
The ingredient is suitable for all skin types, but can be especially beneficial for those on the more sensitive end of the spectrum. "The anti-inflammatory properties can soothe and calm the skin, making it ideal for individuals with conditions like eczema or rosacea," says Dr. Lolis.
Dryness is also a common concern that edelweiss combats. "It works to provide the skin with hydration while aiding in regulating moisture and excess oil production," says Kristine Kellner, esthetician, and educator for skin care brand BABOR. She explains that if visible markers of aging are a top concern, the antioxidants in edelweiss provide intense protection against the free radicals that ultimately damage cells. "This helps reduce the appearance of the telltale signs, like wrinkles, age spots, and loose skin," she says.
As if its extensive list of benefits weren't enough, edelweiss has little to no known side effects. However, it's still a good idea to tread lightly. For those who have extra-sensitive complexions, Dr. Lolis adds that edelweiss can cause contact dermatitis, which is true of most botanicals. That said, consulting with your dermatologist first before switching up your routine is always a smart move.
How To Incorporate Edelweiss Into Your Routine
Adding another step to your routine can feel like a chore, but with edelwiess, it doesn't have to be. "There are various products that contain the extract, so fitting it into your current system easy," says Kellner. Thanks to its many benefits, she notes that it can even use it year-round. While there are cleansers with edelweiss available, serums and moisturizers that allow the ingredient to really sink in are more common. Dr. Lolis recommends using these types of products after cleansing and toning, explaining that serums are designed to deliver active ingredients beneath the skin's surface, and therefore work best on freshly-cleaned faces free of buildup, oil, or other debris.
With its extensive range of benefits fit for everyone, it's easy to be impressed by the power of this tiny flower. Below, a few products powered by the plant worth adding to your routine.
The Best Edelweiss Skin Care Products
vv note in this one