These Just-Launched Products Are Like A Head-To-Toe Summer Beauty Checklist
Courtesy Of Jones Road Beauty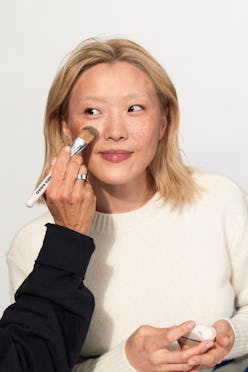 We may receive a portion of sales if you purchase a product through a link in this article.
Ah, the sweet sounds — and smell, and sights, and…skin care — of a fresh summer. After a few false starts and otherwise unexpected weather, summer is finally here, bringing the best new beauty products of June 2023 with it. Though the season technically is only a few weeks old (it officially started June 21), the year's most notable launches are already on their way. No matter if your summer vibe is beachy-breezey, goth motif-heavy, or over-the-top and palpably glamorous, there's more than enough newness to keep you inspired long after the last spritzes of June are sipped. And that goes double for those still trying to decide on their warm-weather aesthetic.
June's somehow already flown by and over with, but it's been full of exciting new products in every category. On the skin care front, a sweat-swabbing cleanser from top celebrity aesthetician Sofie Pavitt is earning rave reviews, along with hair masks for maximum shine, a head-to-toe perfecting body scrub, and a glow-inducing blush hybrid by Saie that brand founder Laney Crowell calls both effortlessly cool and totally unique. Confirmed: it's going to be a great summer.
Ahead, the very best new makeup, skin care, hair products, and fragrances of the month.
June 2023 Makeup Launches
Best New Lipstick
Best New Skin Tints
Best New Concealer
Best New Illuminator
Best New Bronzer
Best New Blush
Best New Liquid Eyeshadow
Best New Lip Tints
June 2023 Skin Care Launches
Best New Serum
Best New Moisturizers
Best New Acne Treatment
Best New Cleansers
Best New SPFs
Best New Lip Treatment
June 2023 Hair Launches
Best New Serum
Best New Scalp Treatment
Best New Hair Tool
Best New Dry Shampoos
Best New Styling Cream
Best New Leave-In
Best New Masks
June 2023 Body Care Launches
Best New Fragrances
Best New Body Oil
Best New Body Brush
Best New Body Scrub