Beauty Experts Swear By These Genius, Cheap Things That Aren't Even On Your Radar
These expert-approved finds from Amazon will revolutionize your hair, skin, and makeup routines.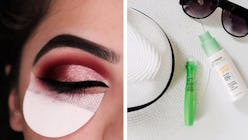 We may receive a portion of sales if you purchase a product through a link in this article.
There's nothing better than stumbling upon a little-known beauty product that you wind up loving so much, that it lands a permanent spot in your routine — unless, of course, that product also happens to be super cheap. That's why we tapped some of our favorite hair pros, makeup artists, and dermatologists to find out which lesser-known beauty products they swear are worth the money (even if they don't cost very much at all).
From cult-favorite skin care saviors to weird-but-genius products that will revolutionize the way you do your makeup, beauty experts swear by these genius, cheap things that aren't even on your radar. Keep scrolling to discover them all.