The Biggest Eyebrow Trends Of 2024 Range From Subtle To Bold
Rosdiana Ciaravolo/Getty Images Entertainment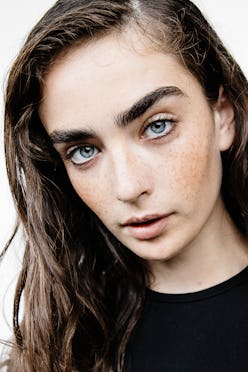 We may receive a portion of sales if you purchase a product through a link in this article.
Fact: Beauty, by all means, is experimental. From makeup to manicures, it's fun to change things up and try out new looks. But when it comes to eyebrows, most people are pretty set in their ways — and for good reason. When shaped just right, they can perfectly frame your facial features. With such a big responsibility, it's easy to stick to a routine you know works. But experts' 2024 eyebrow trend predictions will convince you to break out of your comfort zone. Unlike years prior, this set of styles embrace natural finishes.
Soft, fluffy arches have been the breakout look for several months, but the coming year is taking it to the next level. "I am noticing more people are seeking brows that appear untouched," says Kristie Streicher, celebrity brow artist and founder of KS&CO. With an emphasis on ease and wearability, she explains that 2024 will be about creating a look that's fully customized instead of one-note. However, some of the extreme styles, such as bleached or pencil-thin brows, will continue to be popular for those moments when you're feeling bold and edgy.
Ahead, TZR spoke with two top brow specialists for their thoughts on the eyebrow trends that will dominate 2024. Whether you're desperately in need of a new look or just want to switch it up for the new year, there's plenty of ideas here to get your creative juices flowing.
Brow Shape Trends
Over the past two years, the internet has delivered countless bold eyebrow trends. Arched to perfection and fluffed, the viral look is precise and clear-cut. Thanks to techniques like lamination and soap styling, it seemed as though everyone had the exact same brows. But moving into 2024, Streicher tells TZR that natural shapes unique to your face and brow hair are having a moment. "Whether you have thick, thin, or a unibrow, embracing a structure that is distinct to you is the way to go," she says. Of course, that doesn't mean you should just let them grow wild. Instead, Streicher recommends having your arches tailored to fit your features and face shape.
One way to do this is by opting for a straight brow look that focuses on the ends to better frame the area. "Shortening the tail and adding a bit of product will give some definition and allow you to create a personalized shape. This way, the ends will turn outwards to open up the eyes and the face, rather than be positioned in a downward angle," Streicher says. With little to no arch, the flattened style has a lived-in feel that reads bushy but not unkempt. "A lot of people are looking for fullness without it being over-the-top and messy," says Autumn Estelle, national brow artist at Benefit Cosmetics. Much like a layered haircut, she explains that this shape isn't about sharp or crisp edges, allowing the brows to showcase their natural curves and thickness.
According to Estelle, skinny shapes will continue to be a popular alternative in 2024, too. However, these aren't the pencil-fine arches from the '90s. "The trend has evolved, and the modern look has a bit more density throughout the brow," she says — think more wispy than extra-sparse and invisible. She tells TZR that even though thin is in, they're still styled with a wash of color to help best balance the proportions of the face.
Brow Color Trends
With brow lamination and bushy shapes still in-demand, natural colors are also a top request. Tinting can help darken your original shade, but it can deliver a too-harsh look if not done correctly. Luckily, there's another way to embrace a signature hue. "Applying a hydrated serum to your brows nightly keeps them hydrated and healthy, but most of all it enforces its natural shine," says Estelle. Like hair oils and glosses, a serum packed with nourishing ingredients will enhance the hair and enrich your brow shade.
In terms of color, dimension adds depth and keeps brows from appearing flat. If you frequently get them tinted, Estelle suggests opting for a combination of light and dark shades placed throughout your arches. "Not only does this deliver the most believable brow possible, but it fine-tunes the shape and structure," she says. When attempting this look, she notes that the first color should reflect the natural tone of your hair while the second can be either darker or lighter to add warmth.
Trending Brow Treatments
There's no doubt about it — brow lamination and microblading techniques will continue to be popular in 2024. But Streicher notes that the goal is soft and diffused as opposed to hard lines and contrasting edges. Instead of the traditional lamination style, she recommends a brow lift that gives flexibility to the hair shaft, making it easy to style. "You can get that sprout-y and brushed-up look or you can lay them down for a softer and manicured appearance," she says.
Similarly, she notes that subtler versions of microblading, which offer a feathered look instead of jarring dark strokes, are on the rise. It may come as a surprise, but she adds that strategic tweezing can be beneficial for creating an effective growth pattern and consistent shape.
Below, find the expert-recommended products to get you started on your best brows ahead of 2024.