NordicTrack's Most Popular Treadmill Perfected My Stride — And Mile Time
Natasha Marsh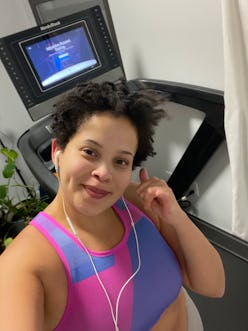 We may receive a portion of sales if you purchase a product through a link in this article.
Actively running marathons — both full and half — the last eight years, I know firsthand how difficult training can be. This type of exercise can be hard on the body, and I've experienced everything from deeply sore muscles and calloused and cracked heels to shoulder pain from poor form and cramps from overexerted energy on longer sessions. All that said, I love running. I love how it activates my competitive nature as I consistently work to beat my mile times, set personal records, or smash a challenging hill. And while my training has always primarily taken place outdoors, I recently had a game-changing experience with NordicTrack's buzzy Commercial 1750 treadmill that impacted my routine for good.
For some context, my work as a freelancer pre-2022 made scheduling long runs pretty simple. Because I had not been tied down to a desk or hours, I had the freedom to plan out 10+ mile runs that worked around my days — not to mention lockdown gave me lots of time at home to focus on my fitness goals. However, in training for my last half marathon (in late 2022) I ran into a fresh predicament.
After a 10-month hiatus from running due to a knee injury, and the hustle and bustle of my job picking up speed again, properly getting back into training got increasingly difficult this past year. My bicoastal lifestyle, splitting time between Los Angeles and New York City, and the onslaught of work trips scheduled in between presented a frenetic schedule, not to mention a variety of weather conditions (hello, New York winters) to work my outdoor runs around.
In fear of getting behind on training, I began searching for a quality at-home treadmill that would offer me some sense of consistency while in NYC, nix the need for the great outdoors, didn't take up too much space, had detailed options that mimicked race day courses, and wouldn't drain my bank account. Enter: the NordicTrack Commercial 1750, which was recommended to me by my former personal trainer, not to mention plenty of people in the running community.
I was excited to test out the machine and see how it stood up to pavement, and ultimately see if it could help with my marathon training. Ahead, my full experience using the NordicTrack Commercial 1750 treadmill, including how much it costs, how it runs, the programs offered, and if it's worth it the price tag. Spoiler alert: I've used the machine for over nine months now and I'm still loving it.
Fast Facts
Price: $2299
Size: 80" L x 38" W x 65" H; 340 pounds
Best For: Runners, walkers, those training for a marathon, or are hitting a specific fitness goal
What We Like: iFit programming partnership that allows the ability to virtually run terrains and trails around the world, cushion running belt, noise-canceling functionality; fold-up, space-saving design
What We Don't Like: Short program durations
Rating: 4/5
How TZR Keeps Score: 1/5: Making a return; 2/5: Keeping as a backup; 3/5: Finishing to the last drop; 4/5: Recommending to my group texts; 5/5: Already on auto-replenish
The Design
Over my eight-year outdoor running journey, I've sprained ankles, bruised knees, and had to work through severely tight muscles. My first notes on the NordicTrack treadmill were on the cushioned belt, which was so soft on my joints that it didn't even feel like work when my sessions got going. Also, you can adjust the cushioning to mimic harder road running or ease up for lower impact days, which can help prevent joint pain.
Living in a building with way too many floors and apartments all squished together was another big concern when pondering this large piece of equipment — I feared the noise and running movement would irritate my neighbors. In my early discussions with the NordicTrack team, they assured me that the commercial-grade treadmill was designed to absorb impact, keeping all noise inside the four walls of the room it's placed in. Even on runs where I went up to 12 miles per hour (the machine's max), my neighbors could not hear or feel a thing — that I knew of — thanks to the smooth noise-inhibiting functionality.
iFit Classes
It's not every day you get to travel to Aruba, Bora Bora, Maui, Nashville, and Bolivia all in the span of a few hours. But with NordicTrack and its iFit programming you can. iFit, a pivotal leader in interactive fitness and on-demand classes, has trainers that double as local travel guides. As an avid traveler, I relish the opportunity to learn about a new city or country via the exercise platform. Constantly on-the-go, I've been able to work in a quick running challenge dedicated to my next planned travel destination prior to leaving my apartment. For example, knowing I wouldn't get much time to sightsee on a recent bachelorette weekend in Nashville, I fired up a series of four workouts set in the southern city on the treadmill and got my fix of history, special events, and local traditions and eateries. With the automatic adjustments mimicking the actual city (more on that later), I became totally immersed in the location, completely forgetting I was on a stationary machine in the middle of my little NYC apartment.
NordicTrack gives you a year of iFit for free to get started. After that, you'll be charged $396 a year for a multi-user family membership (up to five people) or $180 a year for individual memberships. And if iFit isn't for you, you can cancel before your free year is up and stick to the treadmill's manual settings that includes a more limited amount of classes. From my perspective, the iFit membership is worth the price. With each membership, you can enjoy live, on-demand, or prerecorded indoor and outdoor sessions in a library of over 16,000 classes, all led by professional personal trainers. Some classes include runs, hikes, or power walks in exotic destinations like the Himalayas of Nepal, New Zealand, and Aruba — proving that working out doesn't have to be boring. And the program is not limited to running or treadmill-only activities: iFit's library also has strength training, yoga, pilates, circuit training, and mindfulness practices.
For days, I wanted to skip the touristy rides and run without distraction, I simplified my settings, with just music and my trainer's voice guiding me throughout the duration of my session. You can adjust the volume to make the music louder and the trainer's voice softer or, if you want no sound at all, you can turn off the volume completely.
What I loved about the iFit experience is how seamless it connects to my Apple Health app to allow my workouts to directly post to the platform. This made it really easy to track my progress and long runs when training for my upcoming marathon. iFit also connects with Garmin Connect, Google Fit, and Strava.
As I was preparing for a marathon with multiple hills, the -3% to 15% incline range on the treadmill allowed me to mimic running up and down hills — sans the poor NYC weather I was seeing outside of my apartment. And the speed options range from zero to 12 mph, the NordicTrack Commercial 1750 can handle interval training — which is always key when I'm training for speed. It's also the tool that got my mile time from 9:50 to 8:54 in a matter of six months — an unheard of jump in my outdoor training. I was so shocked at the time difference, after hitting 8:54 consecutively for two weeks, I ran outside to see if it was just my soft treadmill belt that was helping me go faster, or if I had truly hit my personal record. To my surprise, I hit 8:54 again on the pavement and I knew what I had achieved in my apartment was correct.
My only real complaint with the equipment is the program durations. With the longest one at 90 minutes, each time I wanted to do a longer run (7 to 15 miles) I had to tack on separate run sessions to continue and then I'd note my total run time after manually calculating it.
Is It Worth The Price?
The 1750 model is priced at $2,299, with financing options as low as $59/month. Although high in price, shipping is free (it delivers 10 to 14 days after placing an order) and every purchase comes with a 1-year iFit membership, 10-year frame warranty, two-year parts warranty, and one-year labor warranty.
Also, as the machine is 80 inches long, if you live in a smaller apartment or living space, be ready for it to take up the majority of the room. With the EasyLift Assist hydraulic lift, the treadmill does fold half way (into a V-shape) if you need extra space throughout the day. However, I found myself keeping it out for instant use, and making my furniture and desk work around it.
I've been testing this treadmill for just under a year and it has completely transformed my running career. It's greatly improved my form, speed, and stamina. Whether you're an avid runner or a walking and hiking enthusiast, you'll enjoy the NordicTrack Commercial 1750 and iFit collaboration. Not to mention, if the thought of virtually transporting to different cities and working out on different inclines and terrains around the world is of interest, you simply can't go wrong with the 1750 model.