Mandy Moore Talks Mental Health & Her Go-To Trick To Feel "Empowered"
TZR; Kevin Winter/Getty Images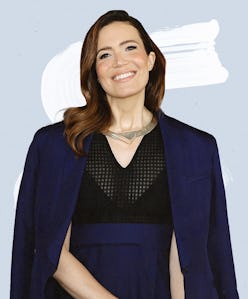 We may receive a portion of sales if you purchase a product through a link in this article.
Since hitting the scene as a vibrant pop star at the ripe age of 15, Mandy Moore has been known for her approachability and, of course, her glowing fresh face and disarming smile. There's a kindness and friendliness about the 39-year-old that makes you feel like you're in the presence of a friend, even if you're meeting, say, for the first time via Zoom. This is likely why Moore was tapped to raise awareness around common health issues that are often not discussed at length or carry some shame or embarrassment, like eczema, by pharmaceutical company Incyte. In her recent campaign with the medical brand and its Moments of Clarity program, which highlights stories of real people with eczema who found relief from their symptoms, Moore is not just shedding light on the physical effects of the skin condition, but also the more undetected mental impact.
Up until she was diagnosed with atopic dermatitis (another term for eczema), which often manifests as inflammation, redness, and irritation of the skin, Moore says the symptoms were mostly bothersome and uncomfortable — but they also took a toll on her confidence. "My job and being able to show up to work and feel my level best, but also just not be constantly thinking about how uncomfortable I was, how itchy I was," says the actor of her experience. "So getting a diagnosis at least was a relief in that sense of like, 'OK, I'm not crazy. There is actually something going on with my skin.' And being able to sort of just operate from that sort of baseline I found to be really helpful."
The diagnosis presented Moore the opportunity to make some permanent changes in her life, changes that would serve both her skin and overall holistic health. Mainly, she learned to simplify. "It's funny that getting diagnosed with AD right before the pandemic and then right before having babies, it sort of put this sort of pared down, less-is-more kind of idea in my head," she explains. "When it comes to [how] I approach all of my skin care and makeup, I try to keep things very simple and very clean." With stress often being a trigger for eczema, Moore has also learned to embrace the things that keep her serene and centered — like family (she has two little boys, Gus and Ozzie, with husband Taylor Goldsmith), coffee, phone-free afternoons, and a nice glass of wine.
Ahead, read on about how Moore keeps her mental and physical health in check, and why, sometimes, swiping on a bright-colored lipstick can be an act of self-care.
What's the first thing you do when you wake up?
I have a big glass of water. I have a big thermos by my bed. I finish that, and then I go make my coffee. I'm a coffee fiend. It's the thing I go to sleep excited about — making coffee in the morning. And then I start to get kids breakfast and stuff ready. But the water, coffee thing, I don't know. I'm like, I might as well hydrate myself before I dehydrate myself.
When you have the chance to treat yourself, what do you do?
I put my phone away, giving myself permission to do that, step away from work. But also I am a total chocolate chip cookie, French fry, glass of chilled Gamay kind of girl. Those are my things that I love as well. Besides the coffee, today, at the end of the day, I'm going to have a nice glass of wine.
What are you listening to these days?
Whatever Gus is listening to, which means whatever Taylor is listening to. It's funny because he will introduce stuff to Gus that I'm like, 'you need to be way more discerning about the music.' There's this Frank Zappa song called 'Baby Snakes.' And Taylor's like, "Oh, he'll love it." And now he wants to listen to that on repeat. And Zappa's cool, but a little goes a long way. You know kids, they just want to hear things repetitively. But then he also loves The Beatles, and he loves Pete Townshend, and he loves Warren Zevon. And Taylor's really good about introducing him to great music as well, which I'm thankful for because we get in the car and I'm like, 'Oh, we get to listen to a real adult playlist.'
One thing you can't live without is...
My family. I mean, it's the only thing when you're a parent that you think about. Right? And I am away from my kids right now with everything that's happening in the world. I'm just family, family, family, kids.
Where are you dreaming of traveling to? Why?
I'm a big adventurer and I love hiking. So I'm excited about doing more of that with [the kids]. But we're getting ready to move. [It's] not anywhere far and not a crazy big move, but with a family, it feels like a big deal. So I'm excited actually about settling into routine at home and putting down roots for real. We bought [our current] house before I knew I was pregnant with my oldest guy. And so I feel to have a real family home now and a forever home, I'm just excited about what the holidays are going to look like, and starting new traditions, and all of the things that sort of come along with that. I'm less focused on the travel and more [about] feeling settled right now.
What's your go-to secret weapon when you want to look and feel good?
A bright lip. A good pop never fails. It makes me feel good, makes me feel polished and like the most empowered version of myself.
Do you have a favorite workout/wellness practice?
Nothing with regularity. I feel 2024 is going to be my year that I reclaim for myself. I let things go as of late. When I can get in a Peloton workout, I will. When I can just excuse running around and chasing the kids at the park as exercise, I do that too. I just try to have grace for myself. I'm trying my best. But yeah, I got to get back on that because I feel better when I'm intentional about taking time for myself.
What's a healthy meal you always make/order?
Beginning of the week, throwing some bone-in chicken thighs, yummy spices, chicken broth in the instant pot. And then having some delicious, gorgeous shredded chicken that I could throw on top of a salad, cook up with some scrambled eggs, make tacos, anything. I also do that with salmon at the beginning of the week. So I could eat it cold on top of a salad, I could heat it up and make a rice bowl really quick.
We're trying to be more conscientious about eating with the boys instead of just making them dinner and then eating afterwards. I want us to eat as a family unit. So, we're getting better about that. That requires having things sort of accessible and readily available to just kind of throw all together. So that's kind of our go-to right now. My husband and I are both fairly healthy eaters in that sense, and we're also not super picky. We both love sardines, so those are a big part of our diet, which is good for our skin and moisturizing omega-3s and stuff like that. [They make for] a good quick meal — throwing it on a rice cake with some avocado and drizzling some olive oil and just keeping it easy.
Do you remember your first big splurge? Do you still own it?
I remember when I signed a record deal, my parents gave me a thousand dollars in cash and I was allowed to go to the mall with some of my friends, and you would've thought that somebody gave me a million dollars. I had every store plotted out. I was going to Claire's, and then I was going to Limited Too, and then I was going to all of the stores that don't exist anymore. Wet Seal, all of the places, I had it so plotted out. It was the most exciting thing possible. The candy store, the music store, everywhere. That's how I was able to spend that first bit of money.
One thing you want to go back and tell your younger self?
I mean, just generally speaking, be prepared for the natural ebb and flow of life. I feel I lucked into this incredible opportunity and career at such a young age. It was so extraordinary. And not that I expected things to constantly sort of be on the up and up forever, but just to lean into those moments where things are a little more confusing or feel they've sort of taken me in a bit of a different direction. All of that is fodder for just life in general. All of that is experience that you're going to be able to use and have sort of more context, and understanding, and empathy, and whatnot for the work ahead. And so yeah, just to lean into those moments. And also, [I'd tell myself] not to be afraid to assert myself and say no when I was uncomfortable. It's hard to tell a 15-year-old version of yourself that. That's something that I feel I'm still learning at 39, but I've definitely become a lot better at, especially since becoming a parent.