These Sommelier-Approved Red Wines Will Bring On Instant Fall Vibes
Time to retire that rosé.
Avaline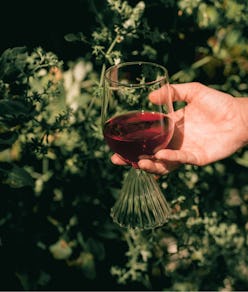 We may receive a portion of sales if you purchase a product through a link in this article.
Although the start of fall may have felt a bit delayed to a prolonged warm season, the winds — and rains — are certainly starting to turn. So, if you haven't already, it might be time to start swapping out your soft pink rosés and chilled sauvignon blanc for a heartier, full-bodied variety that's synonymous with autumn. Yes, just like a pumpkin spice latte, cozy knit scarf, and warm apple pie, a bold red wine has the power to envelope you in true fall bliss.
That said, like all other wine varieties, red options are aplenty, making it difficult to decipher which ones will pair nicely with your vegetable stews and filling holiday meals. Luckily, we have sommeliers and winemakers and their endless breadth of knowledge for just such a conundrum. No one knows better than a wine master, so why not compile your fall wine list based on their vetted recommendations?
Ahead, we tapped wine pros for their picks of six key varieties to stock up on this fall, ranging from the classic (think Syrah and Cabernet Sauvignon) to the surprising (hello Greek wines). Check their favorite sips ahead to prepare you for your next autumn soirée.
Pinot Meunier
"This wine has a musky earthiness to it, with notes of green olive, sassafras and root beer, and aromas of wet earth and mushroom — it smells and tastes like a peak fall day," says Sommsation Lead Sommelier, Elyse Lovenworth. "The medium body lends itself to a great transitionary wine from the warm summer to the much cooler autumn." To enhance the "playfulness" of the wine (and combat those abnormally warm days that sometimes come in the fall) the wine pro recommends serving this variety slightly chilled.
Syrah
"Fall and winter lead me toward craving rich, spicy wines from grapes like Syrah, especially those from the Northern Rhone Valley in France" says Jay James, master sommelier and president of Benchmark Wine Group. "Crushed black peppercorns over blue plum, black cherry, and violets; Cote Rotie and Hermitage are some of my all-time favorite cold weather wines."
Morgan Calcote, award winning sommelier at FIG in Charleston, SC seconds this notion of Rhone being an ideal Syrah destination, where the wine often features hints of black fruit, olive, and embered smokiness. "If you like a juicier, more red and purple berry flavor profile, the southern Rhone [region] offers that up generously with baking spices and a touch of that old work earthiness to round it out."
Zinfandel
"This jammy, fruity, and boozy–yet-easy-drinking wine will carry you through the darker, colder months with its warming characteristics of dark fruits, nutmeg, vanilla, and a delightful mocha finish," says Lovenworth. "The heat from the alcohol of this soft and structured wine warms the soul and body. Don't let the higher ABV scare you off – this bold and robust powerhouse will delight even the most discerning palate."
James says he has a particular affection for classic California old-vine Zinfandel, "especially examples that are made in a restrained, not-sweet style which lets the spice rack nature of Zinfandel come through without overripe characters."
Pinot Noir
"The absolute diversity of flavors that can come from Pinot Noir make it a favorite when the leaves start to change," says Torrey Grant, sommelier and adjunct professor of wine appreciation at Syracuse University. "Given that many of those flavors [in the wine] speak to fall such as moss, earth, cranberry and spice, it makes for a pretty compelling reason to open a bottle. Whether it's Burgundy, Oregon, or the Sonoma Coast, the sheer versatility of Pinot Noir means I can change styles with the changing weather."
Organic wine brand Avaline recently expressed their devotion for the variety by releasing their own version, just in time for the colder months ahead. "While I definitely gravitate towards whites and sparklings during the warm summer months, when fall hits, my wine preference changes and I really love reaching towards a red wine, but one on the lighter side," says winemaker, Ashley Herzberg. "Our Avaline Pinot Noir is the perfect wine for me. I love a wine I can drink while I am making dinner but that still pairs well with the meal. I'm also looking forward to having this wine on my Thanksgiving table at my parent's house to go with all their traditional foods and side dishes, and for my post-skiing glass of wine all winter (hopefully in front of a fireplace!)."
Cabernet Sauvignon
"Cabernet Sauvignon is never out of season, it seems, but the fall and winter beg for big stylish wine like this one," says Ron Edwards, master sommelier and wine education director at Winebow. "The Lapostolle wines are crafted to demonstrate the greatness of the Apalta region of the Colchagua Valley, a top-notch place to grow Cabernet Sauvignon. This is clearly shown through the velvet texture, inky dark berry fruits that meet up with black currants, and layers of vanilla and baking spices. That holiday standing rib roast is a perfect partner for this powerful but stylish example of why you should be buying more wine from Chile and Lapostolle specifically."
Johnny Kozlowski, sommelier and beverage director of The Avra Group, which operates Avra Estiatorio Greek/Mediterranean restaurants in New York, Beverly Hills, and Miami, says he turns to Napa Cabernet once the seasons change for fall. "It's full-bodied, featuring luscious dark fruits and sweet vanilla notes from new French oak, always tempting me to take another sip," he says.
Xinomavro
"Xinomavro is a remarkable grape from Greece, bearing some resemblance to a cross between Nebbiolo and Pinot Noir," says Kozlowski. "It boasts notes of rose petals and dried cherries, with a firm, structured palate. It's an earthier wine that can remind you of Barbaresco or, in some cases, with reserve or select bottlings, more like a Barolo."