World Record Holder Jenn Drummond On Climbing The Seven Second Summits In Her 40s
@thejenndrummond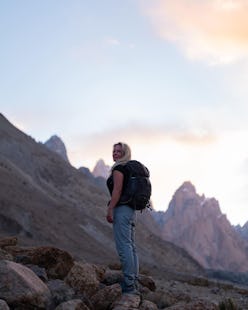 Jenn Drummond is a planner. A professional financial advisor, she was always accustomed to accustomed to mapping out her life (and those of clients) by stages. "We did these financial plans where you helped people plan by decades, like 'OK, I want to retire 30 years from now,' or whatever, and we'd work that into goals," she tells TZR in a Zoom call. "So I started breaking my life out into decades — 40s, 50s, 60s, 70s, and so on." What she didn't account for was a near-fatal car accident in her late 30s that would give her a fresh perspective on life. It also placed a new goal in her periphery that was a far cry from the retirement and savings plans she'd curated for the better half of her life. Yes, at 39, she made the decision to be the first woman to climb Seven Second Summits, the second-highest peaks on each continent.
To be clear, Drummond was not exactly a seasoned hiker or climber. Sure, she played soccer in college and even completed a half Iron Man competition, but fitness was always a part of her life but not her whole life. She first became hooked on hiking shortly after moving to Park City from Michigan in 2015. "Quite early on, that first year or second year that I moved here, I went to the Jackson Hole and climbed the Grand Teton," she recalls. "I thought it was the most magical experience ever. And so I was definitely hooked into it then, but I had seven kids, and by then I'd gotten involved in the community and was busy, and climbing mountains takes time. So I would just go on hikes around Park City."
Then, that fateful car accident happened in 2018, turning her world upside down and forcing her rethink her bucket list. So, as Drummond entered her fourth decade of life, she considered what she wanted the next ten years to look like. "I'm like, "OK, here's activities I want to do," she recounts. "'What should I do in my 40s that I can't do in my 80s?' And the thing on there was, 'Climb a mountain.' So I'm like, 'Well, I'm going to climb a mountain for my 40th birthday, and kick off the decade with this experience.'"
Drummond's original plan was to climb Nepal's majestic Ama Dablam until the pandemic thwarted her plans and forced her to — once again — pivot. It was during a homeschool session with her son, that he proposed she reach for the stars and climb Everest instead. "The reason I hadn't chosen Everest originally was because Ama's harder, and Everest is kind of this Disney World of mountains," she says. "But, at the same time, I'm like, 'Maybe I should climb [it], because everybody has a [metaphorical] Everest. So I decided, 'OK, I'll climb [the actual one].'"
As she dove headfirst into training for the various altitudes and terrains she would face, her coach recommended she read a book about a woman who achieved a Guinness World record for skiing across the Alps. "And then a couple of months later, he's like, 'Jenn, I've got the perfect Guinness World record for you: seven summits, seven continents, seven kids," she recalls. "Sounds like a jackpot. Hasn't been done by a female." It was then that Drummond felt a kind of divine purpose and reason for surviving her devastating accident. She wanted to be an example to other women and moms her age and in her season in life. So she made the decision to try for being the first woman to climb the second highest summits in all seven continents: Sumantri in Indonesia, Ojos Del Salado in South America, Mount Kenya in Africa, Gora Dykh-Tau in Europe, Mount Tyree in Antarctica, K2 in Asia, Mt. Townsend in Australia, and Mount Logan in Canada.
"I don't look like I belong on a mountain, and I'm a mom of seven," she says. "Think of how many other moms are at home, kind of putting their life on hold until their kids launch, which society accepts and promotes 100%." While Drummond doesn't knock this all-in approach to parenting, she wanted to show there were alternative ways to raise a family and still leave some room for yourself. "You can still be a great mom and work," she says. "You can still be a great mom and [do other things]."
Through rigorous training (which included prep climbs up Ama Dablam and Everest and, as it happens — multiple birds with one stone, right?) meticulous discipline, and a step-by-step approach, Drummond worked at her goal for the next three years. Slowly but surely she found herself globetrotting around the world, checking off one summit at a time. Naturally, each locale and summit presented different challenges. Some climbs took days while others weeks. And some terrains and environments proved so dangerous that Drummond and her crew were forced to turn around mid-climb and try again.
"There's definitely moments you get scared," she admits. "Especially when you climb K2. Climbing it is like playing Frogger. Rocks are always falling from above you, and it is one of the mountains that's truly a triangle." The record-breaker explains that most climbs take you on a "zigzag" trail that requires less physical power and allows you directional options in the event of trouble. But, some summits like K2 are more treacherous in that there's a single trail straight up the mountain that makes climbers vulnerable to more external factors like falling debris, inclement weather, etc. "All of a sudden you're saying like, 'Oh my God. This could be it.'" says Drummond.
Despite the treacherous moments, she persisted, proving that half the battle in any mission is mental. "I've learned your body, your mind is the most powerful tool you have," says Drummond. "If you can harness your mind, you can harness so many opportunities, because our mind stops us short so often."
This summer, after three years of climbing her way through the world, the mom of seven climbed her final goal summit, achieving her World Record for the Seven Second Summits. One would think after such a physically and mentally straining season, she would be ready for some much needed rest ... a lazy vacation on a (flat) exotic beach with a fruity drink in hand. But, no. Drummond is already hard at work on her next big project, a book appropriately titled Quit Proof.
"I think at points in our lives, we quit," she explains. "We're these young children, and we believe anything and everything's possible, and we look at the world as just in the now and the present. And then all of a sudden that shifts. Drummond explains that her goal for the book is to urge adults (and women in particular) to get back to this "inner child" mentality that presents the impossible as possible.
"So my hope is that people follow this story, and discover that they don't need a car accident to wake up," she says. "I hope it wakes them up to say, 'Oh, wait. Why not start something in my 40s? Who cares? Who cares if you're a beginner? I think we are so disconnected with how we feel, and when you start to feel again you're like, 'Hey, I'm allowed. This is exciting. This is new. This is novel. This is challenging. I get this one life to experience and explore. Why not do that?'"