I Went To A Fitness Bootcamp In Mexico To Shake Off My Lazy Girl Ways
My glutes will never be the same.
@ugroumx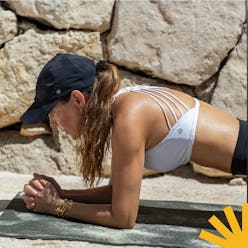 My idea of the perfect Mexican vacation is pretty simple — it involves an incomprehensible amount of al pastor tacos accompanied by salt-rimmed margaritas while lounging on the beach with a stack of spicy romance novels by my side. Add in a couple bottles of sunscreen and a few leisurely walks through the waves and I'm a happy lady. That's why no one was more surprised than I to find myself sweating and heaving my way through a 9 a.m. high intensity workout with celebrity trainer Akin Akman last month in Playa del Carmen surrounded by two dozen tanned, fit attendees, wondering what on earth I had gotten myself into.
After a summer spent traveling abroad followed by plenty of low-key Brooklyn park afternoons and late-night patio dinners, I felt sufficiently rested, bordering on slothful. Uninterested in cramming my schedule to the max, I was content to have a slow, lazy girl summer. But shaking off that lackadaisical mindset proved more difficult than I expected, especially once early fall — and its subsequent back-to-reality rush — set in. Even the idea of booking a yoga class felt like more energy than I could muster. I needed something to kickstart my body to get back into the bustling flow of New York City. So, when an invite to join a wellness retreat at Hotel Xcaret Arte, Riviera Maya landed in my inbox, it seemed like especially fortuitous timing. Never mind that I hadn't attended a workout class in months — I could throw on a sports bra and power my way through, right?
This was not your average, tropical all-inclusive experience — and with packages priced at $3,859 per person, it's not exactly cheap. However, my elevated accommodations and experiences certainly validated the price tag. The 900-room hotel felt more like a small city than a hospitality hub, and I'll admit that I often had to ask for help to find my way to our morning workouts on time. But the gorgeous luxury surroundings and exceptionally welcoming staff helped ease me into the four days of AArmy bootcamp — the massage I received upon arrival at the hotel's Muluk Spa didn't hurt either. And yes, this was all happening outdoors in 90+ degree heat and 100% humidity. The perspiration was very, very real.
The mornings began with a spread of healthy snacks and juices to prep before the first of two back-to-back group sessions — a high intensity workout on mats using resistance bands followed by a cycling class, which is what Akman is known for in particular. I'll admit by day two, I was extremely envious that my boyfriend got to lounge in our room's balcony hammock while I schlepped to class, already sweating by the time I sat down on my mat to stretch. Although the setting could not have been more beautiful (the ocean was always just a few yards away) the workouts felt like a shock to my system, which had grown too comfortable with low intensity activity. In truth, I needed a professional to coax me back into some form of strenuous physical activity, and encourage me while the lactic acid made every muscle in my body burn in protest.
Post-workout, sweating my face off.Hannah Baxter
Each day Akman led us through a circuit of lower body exercises like fire hydrants, lunges, squats, and high kicks before moving through upper body band resistance work, ending with plenty of core attention — bicycle kicks, crunches, and planks, to name a few. The heat and humidity amplified every movement, accented by the trainer cheering us on from his platform at the front of the class. Once we pivoted to the spin class, my hair looked as if I had taken a dip in the ocean just beyond the edge of our stationary bikes. By the time we closed out the morning, my legs quivered and quaked while I walked back to my room for a much-needed shower, chugging water like an out of shape camel. This was boot camp, after all, and Akman delivered.
After four two-a-day workouts, plus a visit to one of Hotel Xacaret's eco parks (the entire property is rooted in sustainability) where we hiked and zip-lined through the Mexican landscape, I finally felt like I hit reset on not only my body but my frame of mind. It was as if I was emerging from the peaceful cocoon of summer reinvigorated by the combination of sun, seat, and sweat. Sure, I don't have the bandwidth or desire to continue with this level of exercise longterm — frankly, I'm not sure my glutes would survive — but I do feel like my mindset for fall is now exactly where it needs to be for peak productivity. I might add in a few more margaritas this time around, but I'm happy to report that I'm already looking into a few personal training sessions each week to help capture that beachside boot camp feeling once again.