The House Of Aia In Mexico Is So Much More Than Your Average All-Inclusive Vacation
The plant-based resort takes wellness to new heights.
@thehouseofaia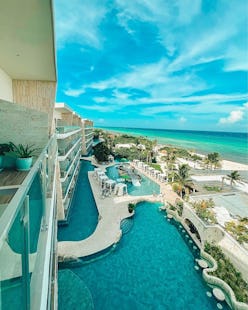 As someone who has been to her fair share of all inclusive resorts — specifically situated somewhere in Mexico, I thought I had seen it all. I mean, how many beachfront properties with endless amounts of margaritas and chips and guac does a girl need to try? Once you've seen one, you've seen them all. Or so I thought until I visited Palmaïa The House of AïA, a luxury vegan wellness resort nestled in Playa Del Carmen. The lush jungle-like destination lies on the Caribbean side of Mexico — a nearly six hour-long flight from LAX. The five-star hotel boasts eco-conscious accommodations, picturesque photo opps, and extravagant plant-based menus led by resident chef Charly Garcia. (As a decade-long vegetarian, I was beyond thrilled at the news of an all-you-can-eat plant-centric menu, however my meat-eater mom — who happily joined as my plus one for the five-night long stay — was a little more skeptical.)
Another major hallmark and draw of the property is its 'The Architects of Life' program, a jam-packed wellness itinerary which draws inspiration from ancient Mexican rituals and practices. It's comprised of 20-plus rotating classes, ceremonies, and rituals and is by far the most diverse self-improvement curriculum I've ever encountered in a resort setting. I've been known to dabble in various wellness practices that range from your run of the mill yoga to aura cleansing and chakra balancing and, trust me, these experiences were like nothing I've tried before. A quick scan of the resort's website or Instagram and it's clear that the property is pretty tight lipped about the details of the sacred rituals that take place during your visit — this is intentional as they want you to experience it for yourself.
Once we landed at the Cancun airport, it was a quick hour-long drive to the resort. We were greeted by our "nomadic guide," Sophie, who would be our personal concierge throughout the week. Once we downloaded Whatsapp (so we could easily communicate with her 24/7) we were quickly ushered to our ocean view suite, which expectedly had a stunning vista of the water. Carefully displayed on the living room table was a vegan cheese flight to welcome us — the first of many unique culinary delights we would experience. Once we got settled in the room, it was time for dinner number one. We rode the resort's complimentary bikes over to LEK, the fine dining Mexican restaurant, which was complete with mood lighting and trendy LA-esque decor. Each dish was gorgeously plated and highlights included a spicy vegan ceviche (with portobello, beets, and local citrus dressing) and tacos al pastor (made with slow cooked watermelon, leeks, and smoked pineapple).
Our first full day started early for this non-morning person at 7 a.m. with breakfast at Su Casa, the main casual dining restaurant where we would spend the majority of our meals. I, half asleep, staggered over to the restaurant and was halted by an utterly Instagrammable cold brew cart strategically situated in front of the entrance. The barista promptly made me a hand shaken iced coffee and coconut milk beverage with fresh ginger and a hint of agave — the freshest java ever tasted. When ordering breakfast, I was a tad overwhelmed by the menu, I'm not used to having so many options, but eventually settled on savory enchiladas with a medley of veggies and pretty green matcha waffles.
Next up was our first ceremony of the trip, the Awakening Ritual, which, fittingly, took place on the Rituals Deck, a round wooden platform carved out in the middle of a densely forested area. Our teacher was seated in the center, attending to a giant bowl of fire. Not to give too much away, but the next hour consisted of chanting, dancing and harnessing the energy of the elements: earth, water, wind, and fire. It was slightly awkward at first, as you're saying things like "I see you and I love you" to the stranger next to you, but by the end, it was all very liberating. Dinner that night was at Mar de Olivo, another equally as impressive, chic all-white fine dining option — this time with some Italian flair.
The next day we had the pleasure of doing the soul reading circle with a healer named Pilar. I was told it's the most popular activity on the property, extremely difficult to snag a spot in and in my humble opinion, was the most profound experience of the trip. Upon entering the room you'll see a circle of cushions and a handful of familiar faces from other activities (it's definitely a small group and you're bound to run into the same people on multiple occasions). As the session begins, Pilar goes around one by one and asks you to state your name and where you're from, she then closes her eyes to talk to the spirits and proceeds to do a soul reading. Everyone's reading was different, but overall it was very emotional, with many breaking into tears. Let's just say the group became close and vulnerable quite fast. My reading consisted of being told I had a young soul, meaning I had only been reincarnated a few times, and that I had a light, bright energy. I'll take it.
There were a handful of other activities on property, depending on what you were looking for. Everything from an energy ball-making course to a breathwork workshop to the outdoor Atlantis spa, which included a very Instagrammable swimming cenote. The menu consists of a handful of out-of-the-box therapy treatments, but being a hardcore deep tissue massage girl, I stuck with the basics. To make it even more enjoyable, the massage took place in a gorgeous little hut with floor-to-ceiling windows that look out onto lush jungle. The next few days of the trip followed a similar itinerary: wake up, grab a leisurely breakfast, hit a few workshops or yoga, hang by the pool or on the beach, then grab dinner at sunset.
All in all, House of Aia is definitely a choose your own adventure type of vacation spot. If you want to drink margaritas on the beach and do nothing else, you can certainly do that and have a great time. If you're going through a rough life patch, you'll find healing in the various thoughtful programming. While many guests came in pairs there were also a handful of individuals taking some much needed alone time. You can keep to yourself or grab dinner with new friends (like we did a few times). It's definitely the type of place that encourages you to lean into your own intuition, get back in touch with nature ,and take the day to do what you feel and need is best. I rarely say this about all-inclusive properties, but this is one I would return to in an instant. Since it was so focused on self-care, it's the first time I didn't need a vacation from my vacation — I actually felt rested and rejuvenated when I returned home.