Eat Sunny Founder Tatiana Boncompagni Reveals The Transformative Exercise She Swears By At 45
It's a "fountain of youth."
@tatiboncompagni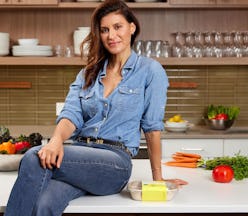 Sometimes it's the smallest changes that can make a big impact. This rings especially true when it comes to one's health. In TZR's series Step-By-Step, tastemakers speak to the minor moves that can lead to mighty changes.
They say that life often imitates art. Well, Eat Sunny founder Tatiana Boncompagni is living proof of that. For years, the former writer and editor honed her craft by reporting on lifestyle, wellness trends, and nutrition trends for glossy magazines like SELF. This front-row seat allowed her to see ins and outs of the healthy food space, an area that always felt familiar to her as a longtime self-proclaimed "garden-to-table" cook. "What was so extraordinary was that, being in the position that I was in, it was really this amazing placement of getting to see where things go wrong," says Boncompagni to TZR. "How food companies go wrong and where the disconnect is between fitness and food and how brands talk to women and consumers and how they formulate products."
This knowledge and understanding also lit a fire of curiosity in her to start a culinary venture of her own. So when her editorial career reached a crossroads and Boncompagni was forced to decide between continuing her journey as a journalist or starting her own company, the latter won the battle — and Eat Sunny was born. The meal service operation, which creates ready-to-eat dishes based around a Mediterranean diet (which prioritizes plant-based foods and healthy fats, with veggies, fruits, and whole grains at the forefront), is founded on the idea that following a macro-nutrient-balanced nutrition plan shouldn't be complicated or time-consuming.
"I just had this deep feeling in my heart, that what the world needs is not another recipe, but a real solution for women who are time pressed," says Boncompagni. "What I really felt was that the problem is time and not having a product out there that is really trustworthy and fills in this gap for people who don't necessarily want to eat vegan or just totally plant-based all the time, who want meals that are plant-forward, that have lots of great vegetables and fiber and wholesome grains, and that are built around common sense macronutrient, nutritional protocols."
In its first three years, Eat Sunny has expanded from meal delivery (serving the East Coast area) to grocery distribution, a journey that Boncompagni describes as "baptism by fire," considering she had no prior experience owning and operating a food business. "I think it has been a very steep learning curve," she says. "And I think I'm still on the learning curve. Once I hired somebody to help me out in terms of learning the basics of management, one really smart thing that this person said to me was, 'Understanding your weaknesses can be a really great strength. And being a humble leader is being a good leader.'"
Another strength of hers is essentially practicing what she preaches in her mission for Eat Sunny. Indeed, Boncompagni lives a well-balanced lifestyle from the inside out every day, something she attributes to her Costa Rican upbringing. "We talk about inside out beauty as a very modern kind of lexicon thing, but women in Costa Rica don't talk about [it like that], but it's a concept that's been around for ages," she explains. "I think this idea is actually very embedded in Latina culture. Latina women are very proud of their beauty and their looks, and they connect to it, I think, in a very healthy way via their lifestyle choices, including how they eat."
For Boncompagni, this well-rounded approach to health also includes her fitness routine, which has evolved and shifted through the years. At the age of 45, the entrepreneur says she's fully embraced weight-lifting, something she describes as a "fountain of youth" and thinks more women should consider. "I lost my shape when I had babies and I started lifting weights and my body got better than it's ever been in its twenties," she says. "When I started lifting weights, I started to be able to eat more and enjoy better food. My face got more beautiful than it ever was when I was [eating less] and doing crazy fasts and trying to eat vegan. I'm telling you, if I could say there is one secret to beauty, longevity, strength, everything, it's [lifting weights]."
The Eat Sunny founder expands on this explaining that the beauty of lifting is that your body reaps the benefits well after your session. She notes that, in addition to burning calories in the moment, the exercise keeps working its magic for up to 48 hours after the fact. In addition to that, she quips, "the more muscle you have, the higher your metabolism."
Of course, maximum results are also dependent on pairing a healthy, well-balanced diet with your regular training. "It means eating the right amount of protein and the right amount of carbohydrates and the right amount of fats," says Boncompagni. "Your skin needs all of those things and your muscles and tissue needs all of the antioxidants in the correct amount, and that's why I think the Mediterranean diet is the best for all those things."
And while fear of bulking up is a common one when it comes to weight-lifting, the business owner explains you don't need to go hard to get results. "You can do as little as one leg day a week," she says. "I know so many women are afraid of getting bulky up top, whatever. I happen to love beautiful shoulders on a woman — that's like my aesthetic. But if you're afraid of looking bulky up top, fine, fine, fine. Just start with a leg day and focus on your glutes. I call that the gateway. It's the gateway muscle group because everybody wants a nice high juicy rear."
We do indeed. Excuse us while we hit the gym.