Sound Baths Are Ayesha Curry's Newest Obsession
Plus more stress-saving tricks she swears by.
TZR; Miikka Skaffari/Getty Images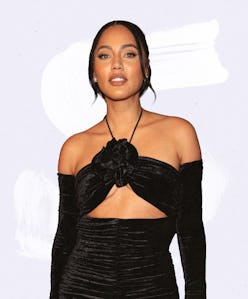 We may receive a portion of sales if you purchase a product through a link in this article.
Seriously, what doesn't Ayesha Curry do these days? Just when you thought the wife, mother of three, content creator, cookbook author, and CEO and founder of Sweet July couldn't possibly add anything else to her plate, she does. Most recently she launched Sweet July Skin, a skin care line inspired by ingredients from her Caribbean heritage. While she may make balancing it all look effortless, Curry has been candid about her struggles to keep her mental health in fighting shape — and her self-care practices play a major part in that.
Back in May, the multi-hyphenate spoke with Insider about the wellness journey she's on, one that began during quarantine when her anxiety and depression reared their ugly heads. Over the past few years, she's carved out a routine that works: From heathy family recipes she can count on to a fitness practice that brings her joy to little luxuries that keep her sane. But most of all, Curry has learned the power of healthy boundaries. When she recently spoke as a keynote speaker for Create & Cultivate's Behind the Business: Beauty and Wellness conference, the self-proclaimed "chronic work in progress" admitted to struggling with imposter syndrome. She credits her success in managing so many projects to one main philosophy: "Say no so you have space to say yes."
Take her latest venture, for example, Sweet July Skin, which Curry calls "food nutrition for your skin." The brand was born out of a place of pure passion. While she admits she goes back and forth on the idea of taking on new endeavors, the deciding factor is always whether or not it is a reflection of herself and her values. "For me the reason why I deep dive into so many things is that it's truly who I am on the inside," she told the Create & Cultivate crowd. Another instance? Her lifestyle platform Sweet July, which she explains gives her an outlet to shine a light on fellow women-owned businesses — particularly those created by women of color.
Curry, who completed an eight-week Harvard business course a few years ago, is also not afraid to acknowledge that success is not always a linear path. From her early days "just having fun on YouTube" sharing recipes and family moments to her present day celebrity status, she's been through some bumps in the road. But staying true to her foundation always helps her find the light at the end of the tunnel. "There's a lot of things I failed in, but I didn't give up," she says.
This way of thinking is certainly a driving force when it comes to keeping this busy mom grounded, but she's also learned to cultivate a lifestyle that makes her feel even more balanced — in ways both big and small. From her newfound love of sound baths to using travel as a way to connect to her culture, Curry's wellness practices run the gamut. Ahead, she shares more about these and other ways she stays nourished from the inside out, plus her advice for other aspiring entrepreneurs.
What's the first thing you do when you wake up?
The first thing I do, honestly, is press the snooze button. So I have this Hatch clock that I love. It wakes me up in a much more peaceful way and it's a four-minute snooze and for some reason that makes me feel more gathered. I do that, and after I get up I typically go and wake up the kids — my 6:30 a.m. mom duties. It takes a while these days because I have a middle schooler now, so she's in that phase where she wants to sleep in. We always do breakfast — it's kind of on-the-go weekday mornings and then on the weekends we do breakfast as a family.
When you have the chance to treat yourself, what do you do?
For me, if I go out to a nice restaurant I'll get Ossetra caviar and a glass of Champagne. That's like, I'm spoiling myself. Another small luxury to treat myself is a 60-minute massage at my local massage place. I love whenever I can do that.
What are you listening to these days?
I love Leon Bridges so much. "Blue Mesas" is like my favorite song, so I listen to a lot of that. I listen to a lot of Drake and more recently a lot of Coi Leray — a female rapper, she's really great. And then, my kids are obsessed with Olivia Rodrigo and K-Pop. Obsessed! I'm a big Spotify playlist maker. Actually, at Sweet July, we make them and share them with everyone, so it's a favorite pastime.
What's one thing you can't live without?
Most recently, my travel backgammon set. My husband and I spent our anniversary this year in Greece and we needed something to do there in between excursions. Backgammon was there — it's everywhere, first of all — but we've always seen it and been like, eh. So we took the time to learn it and I am obsessed. So I got a little travel one in my bag and I can whip it out and play it. It's gorgeous, gorgeous.
Where are you dreaming of traveling to? Why?
I really want to go to Jamaica. My family is Jamaican and I've never really had the chance to go and immerse myself. They're from Montego Bay and I would love to just go there and spend seven to 10 days just foraging my grandma's land seeing what I can find and really just being one with the island. It's time for me to go and really discover my roots.
What's your go-to secret weapon when you want to look and feel good?
I would say moisture, moisture, moisture. Not looking dry. So [Sweet July's] Irie Power Face Oil is amazing for that because you can use it on your face, you can apply it throughout the day to dry spots on your body, as well. I would also say a multi-stick. A stick that you can use on your lids, cheeks, lips I think is always great. Merit and Live Tinted make `great ones.
What's a healthy meal you always make/order?
A healthy meal I always make is sheet pan salmon. My husband and my oldest daughter request this a lot. I'm getting kind of tired of making it but they demand it. It's just salmon and whatever veggies are in season — like asparagus, mushrooms, cherry tomatoes, sweet corn, and onion — on a sheet pan. I add salt, pepper, paprika, garlic powder and I bake it at 425 for like 15 minutes. Then I take half sodium-reduced soy and half apricot preserves and simmer it down in a pan to get this really umami, sweet, glaze-y sauce. Then serve it over some brown rice and you're good to go.
Do you have a favorite workout/wellness practice?
In the past year I have gotten my own crystal sound bath bowls and have made that a practice for myself. Just the sound vibrations and resonance of sound, the way it makes you feel is so calming and peaceful and freeing. It's been a really important practice for me. And then from a workout perspective, I've come to find over the past two and a half years that those high-intensity workouts, the stuff that I actually thought I loved, weren't actually good for [my anxiety]. Now, a nice hike or a simple Pilates class is enough.
What's the small stress-saving luxury you swear by at home?
[At Sweet July, we have] a gua sha roller set. I suffer from TMJ really bad, so having that in the fridge and putting it ice cold on my face, working out the fascia, doing a little lymphatic drainage. Sometimes I'll even pull up a YouTube video to learn about certain pressure points. It's so stress relieving. I think just the ritual of washing your face at the end of the night to me is also stress relieving.
What is your advice for women going into the beauty industry?
What if I was like, 'Don't!' No, no, I'm just kidding. I would say, be prepared to wait. The timelines are crazy, the process is insane, and this is an industry where you cannot miss a step. You want to make sure you are giving your consumer the best possible product and so every step from the formulation to the testing to the regulation to the packaging. Shelf stability. You cannot skip steps. Be patient in that waiting period. Everything is worth the wait.
What advice would you tell your younger self?
Live a little! I feel like I was such an obedient child and young adult that there were moments when I forgot to really live and play. I was just stuck in the rigidness of what I thought I was supposed to be doing. I'm happy with where I am now, but looking back, I missed some moments. I would say to my younger self that you can work hard and play hard.