Amazon Keeps Selling Out Of These 60 Clever Things That Are Shockingly Cheap
Get them while you still can.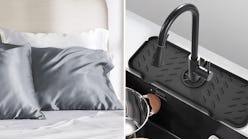 We may receive a portion of sales if you purchase a product through a link in this article.
When a product really takes off on Amazon — as in, achieves thousands of five-star ratings and best-seller status — oftentimes, you'll revisit the page only to find it's no longer in stock. Rather than cute clothes and trendy accessories, this tends to be the case with products that fall into the genius and useful categories — you know, the types of things that might potentially change your life.
Curious as to what constitutes one of these life-changing hidden gems? Just check out this list of editor-curated products under $40, below. But just remember, Amazon keeps selling out of these 60 clever things that are shockingly cheap, so if you want 'em, you'll need to act fast.