Considering Bangs For The Summer? This Hack From Fringe Queen Zooey Deschanel Is Crucial
Leon Bennett/Getty Images Entertainment/Getty Images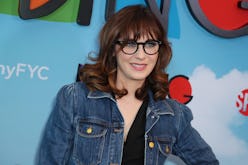 Humor. Acting chops. Whimsical style. There are many things Zooey Deschanel is known for, and her iconic bangs also happen to be at the top of the list. For nearly a decade, one can't seem to picture the Elf actor without the wispy fringe that seems to effortlessly frame her face.
However, nothing is ever as it seems, especially when it comes to hair — just ask Deschanel herself. The actor, who recently sat down with The Zoe Report in support of her latest "Come As You Are" campaign with Crocs, revealed keeping her bangs intact requires daily effort. "I can't let my bangs dry naturally," says the New Girl star. "I have a lot of cowlicks and a naturally wavy shape, so I can't let them do their own thing. I wash them every day." That's right, to get that glossy, effortless curtain effect, Deschanel shampoos her fringe daily to keep it looking fresh and new.
So if you're looking to try bangs on for summer, but are worried about greasy, sweaty hair and humidity making them more trouble than they're worth, fear not. Deschanel's tip will keep them in manageable territory. Simply separate your bangs, dampen them and give them a quick wash with a moisturizing shampoo. Then blow-dry them with a round brush and style the rest of your hair as usual. While it may seem like extra work, the added step takes all of five minutes and will make the rest of your hair look refreshed and revived.
As for the rest of Deschanel's style routine? According to the singer and mom of two, these days, she likes to keep the rest of her look fairly simple and streamlined. Although known for her whimsy dresses and retro ensembles, Deschanel says her day-to-day look is more relaxed and easy now that she has kids in tow. "I like to wear a lot of denim now because it's comfortable. I try to shop for things I can wear all day," she explains. "I also wear a lot of jumpsuits because they're so comfortable." As for the go-to clothing brand she can't live without, the actor and singer says A.P.C. is her label of choice. "They make great classics and they last forever," she says.
When it comes to footwear, it's no surprise that equally classic (and comfortable!) Crocs top Deschanel's list currently. "I wear them for different occasions," says the actor. "They're classic like a sneaker and you can wear them to the beach. If you get them wet they dry easily and just blend easily into any outfit." Noted.
To help you get on Deschanel's breezy summer level, ahead, the essentials needed to achieve her style from head to toe — literally.