How To Wear Red Lipstick The Katie Holmes Way
Charles Sykes/Invision/AP/Shutterstoc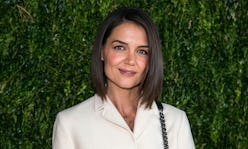 If you're a lipstick lover who saves her boldest shades for special occasions, then let Katie Holmes show you how to wear red lipstick the casual way. The actor's latest look proves that daytime is the new night out when it comes to a fiery pout. A red lip could be the perfect accessory for your low-key looks.
When she isn't running around with daughter Suri in a comfortable tee and jeans, Katie Holmes is actually quite fierce in the fashion department. Let's just say the Dawson's Creek actor is certainly no stranger to the front row of a runway show.
Holmes meant business on her most recent venture out in New York City, tucking one of those oversized menswear button-down tops that aren't always easy to pull off into a mahogany-hued vinyl pencil skirt.
The actor looked as if she was en route to an important meeting, carrying a suede Gucci pouch under her arm. And just when you thought the look couldn't get any chicer, enter the grand finale: Holmes' red lip.
She does make a pretty good case for wearing that rich ruby shade — the one you keep tucked away for Sat. nights and formal occasions — during the day.
You've heard it time and again from bonafide scientific studies and amateur beauty blogs alike: There's hardly a better confidence booster than a swipe of red lipstick. The late fashion icon Coco Chanel herself once said, "if you're sad, add more lipstick and attack."
So, why forego the most empowering piece of your makeup routine until the rare moment calls for it? Holmes (and the legendary Chanel) would agree that you should be wearing it all the dang time.
Don't shy from adding a pop of color to your pout before running errands this weekend, ahead of your next client meeting, or anytime in between. If anybody asks, tell them Katie Holmes told you to.
Shop The Look