Zendaya Just Debuted A Bold New Hair Color (& It's The Real Deal)
Frazer Harrison/Getty Images Entertainment/Getty Images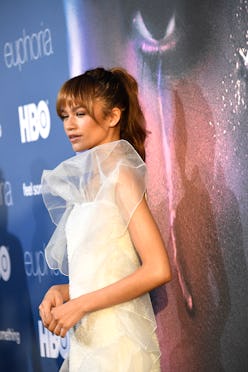 Zendaya has never been one to shy away from taking some major fashion and beauty risks, both on and off the red carpet. And as such, she constantly keeps fans on their toes, as they eagerly wait to see what bold, out-there move the 22-year-old tastemaker will debut next. Well, the latest (semi-permanent) change just came, and it's perhaps one of the actor's most drastic to date. Yep, Zendaya has officially dyed her hair red, and as per usual, she sent the beauty world into a complete frenzy. Thinking about getting a fresh dye job as summer nears? Then you might want to consider opting for the actor's fiery hue, too.
Fans were in for quite the surprise on Mon., when Zendaya and the cast of Spider-Man: Far From Home officially kicked off their press tour in London. The 22-year-old, who plays Michelle Jones in the forthcoming movie, posed for photos in front of the Tower of London, and though her two-piece Alexandre Vautheir suit was certainly alluring, it was her bright-red tresses that ultimately commanded all the attention.
The fashion world might still be relishing in Zendaya's fairytale Cinderella moment at the 2019 Met Gala, but the actor's fiery-red locks just nabbed the top spot on the list of Zendaya's most buzzed-about looks ever. Just take a look at her Instagram as proof — fans are absolutely raving about the transformation.
Zendaya has switched up her hairstyle more than a handful of times. She's sported curtain bangs, a blonde pixie cut, and a '70s-esque Afro, but none of those were actually permanent. That's why when the actor showed up to the London photo call with a new dye job, fans were quick to question whether it was real or a temporary wig.
Zendaya took it upon herself to confirm, via a tweet, that her red hair is, in fact, the real deal. "I dyed it, it's semi-permanent," she wrote.
The actor also took to her Instagram to share some photos from the London event, captioning one "Face it, tiger...," alluding to the cheeky line Mary Jane says to Peter Parker during their first meeting in the comic books. In other words, the actor is clearly paying homage to the original Mary Jane Waston (aka MJ) with her latest hair transformation.
If you, too, want to channel MJ Watson and Zendaya, now's the time to book an appointment with your go-to stylist and ask for a fiery-auburn hue. Then, scoop up The Zoe Report's favorite color-preserving products to ensure the dye job stays fresh and vibrant for as long as possible. Shop the best shampoos, masks, and more, below.
Shop The Products