These $40 Jeans From Zara Are An Easy Way To Embrace The '70s Trend In Style
COURTESY OF ZARA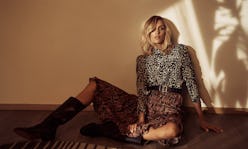 If you had to pick a decade to sum up the most prominent trends of the season, there's a good chance that the '70s would be the first era to come to mind. With its billowy silhouettes and micro-floral prints, it's safe to say that, the time period is serving up a lot of inspiration - as proven by Zara's Spring 2020 Collection. And because traditionally, warmer weather calls for free-flowing dresses and featherweight materials, it perfectly aligns with the distinct bohemian feel.
As seen by several designers via Milan Fashion Week, the disco era is back in a big way. With historically iconic uniforms including tie-dye and curtain fringe bangs, the 70's was all about peace and love. Already approved by countless style set alum like Kaia Gerber, Zara's latest curated collection is a very wearable ode to the decade. Earthy tones and retro prints are seen throughout with touches of warm and ethereal themes, as well. And, for fun, accessories are not forgotten with modern iterations of chunky gold pendants and skinny round frame sunglasses to subtly incorporate the 70's into any ensemble.
If you want to get right down to it, signature styles like a paisley maxi dress and heeled square-toe cowboy boots will give you the 70's cool-girl look instantly. Or if incorporating the theme into your every-day rotation is your goal, high-rise flared jeans and a patchwork crossbody bag are boho yet versatile add-ons.
Zara just made embracing your inner flower child painlessly easy. So peruse TZR's top picks from the collection, ahead.