Zara Revisited Everyone's Favorite '90s Trend (But With A Very Glamorous Twist)
Zara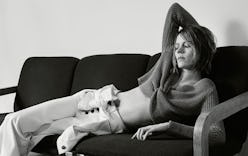 There are echoes of fashion iconography in Zara's New Grunge collection. One of the first looks from the online editorial shows the model, shot in black and white, relaxing in a tank top — reminiscent of '90s Kate Moss for Calvin Klein. In other pictures, Zara's model is Kurt Cobain-like, appearing languidly contemplative in a distressed sweater, or fiddling with her fingers in her mouth. It's impossible to not discuss the grunge aesthetic's power players whenever a modern brand revisits the style; especially since not a year has passed since Marc Jacobs gifted the world Redux Grunge, a reissued collection of looks from the designer's iconic Perry Ellis Spring 1993 show.
But amongst the familiarity, there's something different — a new perspective from the Spanish clothing brand. Flowing dolman sleeves make the $49.90 floral print dress more "vacation on the beach" than "punk show in the basement" (though you could get that vibe just by pairing it with a sheer layer and combat boots). Instead of cinching a loose shirt dress' waist with a flannel, Zara crafted a $39.90 asymmetrical floral skirt that belts it while revealing the layers through an unbuttoned detail. It's the same sophisticated and feminine Zara, just a little rough around the edges.
Zara also fine-tunes less iconic — more thrift store chic — grunge pieces, like western fringed shirts and tie-dye print blouses. And at $39.90 apiece, both are good alternatives to spending hours rifling through a thrift store's racks (only to inevitably come up short). For $25.90, you can get a pack of three necklaces that clash perfectly; wear them each separately for a more refined look, or layered together, without a care about if the pearl and coral match your outfit.
Many of the pieces are online but currently not in stock; however, you can sign up for Zara's email list to be notified when the styles drop. You can browse the collection (and take in the New Grunge editorial) on Zara's website, or keep on scrolling to take a look at a few favorites.